Aliyev told the Cabinet in an address published in state newspapers today that Azerbaijan will never compromise on its territorial integrity.
He said no decision will be made, as he put it, "today, tomorrow or in 100 years allowing Nagorno-Karabakh to be removed from Azerbaijan."
He saluted Azerbaijani diplomats for defending Baku's position, and said the government's increasing military expenditures had helped enforce its message.
An uneasy cease-fire has held since 1994, the end of a six-year war over control of the mainly ethnic Armenian enclave inside Azerbaijan that killed 30,000 people and displaced a million.
Aliyev is due to discuss the conflict with Kocharian in Rambouillet, France, on 10 and 11 February.
(AP)

Nagorno-Karabakh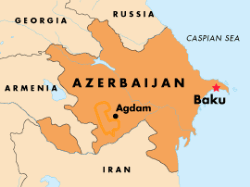 Click on the map to see an enlarged map of the Nagorno-Karabakh conflict area.
In February 1988, the local assembly in Stepanakert, the local capital of the Azerbaijani region of
NAGORNO-KARABAKH
, passed a resolution calling for unification of the predominantly ethnic-Armenian region with Armenia. There were reports of violence against local Azeris, followed by attacks against Armenians in the Azerbaijani city of Sumgait. In 1991-92, Azerbaijani forces occupied most of Nagorno-Karabakh, but the Armenians counterattacked and by 1993-94 had seized almost all of the region, as well as vast areas around it. About 600,000 Azeris were displaced and as many as 25,000 people were killed before a Russian-brokered cease-fire was imposed in May 1994.
For a complete archive of RFE/RL's coverage of the Nagorno-Karabakh conflict,click here.
Of particular interest:
2005 In Review: Conflicts In Caucasus Still Characterized By Gridlock
Nagorno-Karabakh President Expresses Optimism