He told a meeting of the OSCE's permanent council on 12 January that he would visit Armenia and Azerbaijan on 24 January in order to underline his interest in resolving the long dispute over the future of Nagorno-Karabakh.
He also plans to visit Kosovo next month to demonstrate his support for current negotiations on the future status of the Serbian province, which has been administered by the United Nations since 1999. He said he believed the OSCE would continue to play an important role in Kosovo when the United Nations winds down its mission there.
De Gucht also said he saw "positive developments" emerging on the question of South Ossetia in Georgia. He told the 55 member-states of the OSCE that he hoped that these would serve as examples of progress for other regions.
He also called for a resumption of negotiations about the future of Moldova's breakaway region of Transdniester and said there was an urgent need for a new format for the negotiations.
The OSCE chairman said the organization also wanted to place more emphasis on fighting organized crime and corruption. The OSCE is already involved in combating human trafficking, money-laundering, and the illegal trade in drugs.
He said the monitoring of elections would remain an important part of OSCE's work and called on Belarus to invite the OSCE's Office for Democratic Institutions and Human Rights to observe its presidential elections in March.
The Transdniester Conflict
The Transdniester Conflict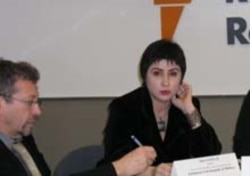 Stela Jantuan, head of the Information, Analysis, and Prognosis Service of the Moldovan parliament (RFE/RL)

FROZEN CONFLICT: On January 11, 2006, RFE/RL's Washington office hosted a panel discussion on prospects for settling the Transdniester conflict. The roundtable featured STEFAN GLIGOR and STELA JANTUAN of the Information, Analysis, and Prognosis Service of the Moldovan parliament and ALEXANDRU FLENCHA, head of the information and analysis division of Moldova's Ministry of Reintegration.
LISTEN
Listen to the complete panel discussion (about 90 minutes):

Real Audio
Windows Media
TALKS CONTINUE. The conflict between the Republic of Moldova and the unrecognized, separatist Transdniester Republic has festered for more than 15 years. A decade of talks supervised by the OSCE, Russia, and Ukraine have stagnated, while allegations mount concerning the involvement of Transdniester separatists in money-laundering and trafficking in arms, drugs, and human beings. What are the current prospects for settling this frozen conflict? (more)
ARCHIVE
An archive of RFE/RL's coverage of Transdniester.