He was referring to a plan worked out by Tbilisi and recognized by the Organization for Security and Cooperation in Europe as the basis for a solution to the conflict.
Speaking to the OSCE in Vienna, Bezhuashvili also suggested that Russia has sent loyalists into South Ossetia in a bid to expand its influence there.
The Georgian minister said most of those serving in the South Ossetian government were Russian citizens, and he accused Russia of illegally granting citizens of the republic Russian citizenship.
He said that those in the region who express pro-Georgian sympathies face "arrest and detention."
(AP)

Human Rights In Georgia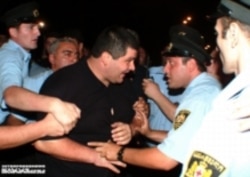 Georgia's police have been accused of using excessive force (official site)


READ
'CULTURE OF IMPUNITY':
Georgian President Mikheil Saakashvili's government has had
a checkered human rights record
since it came to power after the 2003 Rose Revolution. The international community has welcomed the steps taken by the new Georgian leaders to refine the legal mechanisms needed to combat rights abuses. But it also blames the government for failing to ensure those mechanisms are properly implemented
....(more)
RELATED ARTICLES
Rights Group Sees Rise In Police Brutality In Georgia
Citizens See No Improvement In Society, Economy After Revolutions
Helsinki Report Finds Human Rights Problems Plague Entire Region