The region has been subject to a global shift of the geopolitical landscape in the wake of the 11 September 2001 terrorist attacks on the United States, and one of the most dynamic aspects of this shift has been the direct engagement -- and presence -- of the U.S. military. For the first time in history, the United States is now operationally active in each of the three countries of the South Caucasus. As with a number of other distant regions and countries, geographic isolation no longer meant strategic marginalization in terms of U.S. military policy and planning.
Pivot Point
Although the establishment of a cease-fire agreement in May 1994 effectively "fixed and froze" the conflict sides, the U.S. military presence may actually be a dynamic force in thawing the frozen conflict into an intensified jockeying for position by both sides. Yet the backdrop of undeclared war and unresolved conflict remains the core obstacle to long-term development and integration, together with longstanding regional blockades and embargos of trade, transport, and energy. Even more disruptive, however, the Nagorno-Karabakh issue still defines and deforms the political parameters in both Azerbaijan and Armenia.
However, the U.S. military and security mission in Azerbaijan may yet emerge as a pivotal starting point for lasting regional stabilization.
Although Georgia is in many ways the "center of gravity" for the U.S. military in the South Caucasus, Azerbaijan offers unique considerations for America's war on terrorism. Azerbaijan's strategic importance has been redefined, far surpassing Washington's earlier overemphasis on oil and gas pipelines to reflect a much more sophisticated agenda. It may also include greater American responsibility, however, as any progress in the Nagorno-Karabakh talks will most likely bring new demands and expectations from both sides.
The military architecture of the U.S. presence in Azerbaijan is also rooted in the new, post-11 September 2001 strategy of moving away from a large "footprint" and relying on formal military bases to smaller forward operating locations, or "lily pads."
In Azerbaijan, the U.S. military favored the establishment of even smaller and less visible "cooperative security locations," tactical facilities with pre-positioned stocks that provide contingency access. With such locations in place, U.S forces could achieve greater mobility and facilitate faster and more effective missions either along Azerbaijan's southern border with Iran or its northern borders with Georgia and Daghestan.
Pillars Of The Relationship
The U.S. military also expanded bilateral relations with Azerbaijan. This military-to-military relationship blossomed after the U.S. Congress altered its prohibition on most U.S. government-to-government aid to Azerbaijan until it ends "blockades and other offensive use of force against Armenia." That prohibition, enacted into law in 1992 as Section 907 of the Freedom Support Act, was modified in 2002 to allow for an annual presidential waiver to allow for a significant expansion of U.S. military and security assistance.
Currently, there are four essential pillars of U.S. military interests in Azerbaijan, comprising broad areas of security driven by the new demands of waging a global war on terror. The first two focus on the general goals of fostering regional stability and security and forging cooperative assistance in countering terrorism. The third and fourth pillars comprise countering the proliferation of chemical, biological, radiological, and nuclear weapons and maintaining access to the Caucasus air corridor, which is essential for projecting power into Central Asia and Afghanistan.
To accomplish these goals, the U.S. military's European Command (EUCOM) has launched several initiatives, focusing both on the region as a whole and on Azerbaijan specifically. A regional initiative, the South Caucasus Clearinghouse, emulates the Baltic model of establishing a new forum "to serve as a multinational forum for interested countries to share information on their security-assistance programs for Armenia, Georgia, and Azerbaijan; to de-conflict those programs; and to determine areas in which to collaborate or cooperate," according to a EUCOM statement.
A second initiative, tailored to reflect both Azerbaijan's unique security needs and its linkage to Central Asia, consists of a three-pronged effort of counterproliferation, counterterrorism, and hydrocarbon security. This effort, the so-called Caspian Guard, was launched in 2003 and involves Azerbaijan and Kazakhstan and focuses on maritime and border security in the Caspian Sea region.
The Caspian Guard incorporates integrated airspace and maritime surveillance, control, and command. It also encourages greater coordination and cooperation in crisis-response efforts by the Azerbaijani and Kazakh naval forces. The effort was further bolstered in July 2004 by a $20 million program to provide training and equipment for Azerbaijan's Maritime Border Guard. Specialized tactical training and combined exercises are also provided by U.S. Special Operations Forces.
Russian Response
This Caspian initiative has prompted a Russian reaction. Last week, Russian Deputy Prime Minister and Defense Minster Sergei Ivanov called for the creation of a Russian-centered Caspian naval force. This Russian initiative, although mimicking the well-established U.S. effort, seeks to outflank the Caspian Guard by including Iran and Turkmenistan. But the real significance of the Russian proposal is its clear challenge to U.S. military ties with Baku. And this challenge may yet prove effective, as the Azerbaijani response remains unclear, suggesting a bid to pressure the Americans, to please the Russians, or even to exploit both.
But in light of the opportunities inherent in these sophisticated initiatives, not to mention the assistance garnered from membership of NATO's Partnership for Peace (PfP) program, how has the Azerbaijani military benefited from the U.S. military engagement?
Ironically, the Azerbaijani armed forces have seen only a limited set of meager results. Despite a massive increase in defense spending and an even mightier chorus of bellicose statements from the Azerbaijani leadership, the military remains seriously neglected. Increased Western and U.S. training and military education for Azerbaijani officers is stymied by a system of promotion and assignment governed more by personal ties than by professional merit. Even impressive experience in overseas peacekeeping deployments in Kosova, Afghanistan, and Iraq go unrecognized upon return to Azerbaijan. In terms of military policy, any deepening of ties with the United States or NATO is seen as secondary to the more strategic need to expand military relations with Russia, both to respond to Armenia's position as a key Russian ally and to maintain Azerbaijan's arsenal of Soviet-era weaponry.
Formidable Obstacles
There are, moreover, two entrenched obstacles to military reform in Azerbaijan. First, the Azerbaijani armed forces face an unseen enemy: institutionalized corruption. With a combination of the Defense Ministry, a long-serving center of state corruption, and the defense minster himself, the longest-serving defense minister in the former Soviet Union, real reform has never taken hold. This is a legacy of President Ilham Aliyev's father, the cunning former KGB General and late President Heydar Aliyev, who saw the military as the only true threat to his power.
The second obstacle, which has become increasingly visible in recent months, is perhaps the most challenging -- namely, the politicization of the military. Despite its repeated threats of renewed war to retake Nagorno-Karabakh militarily, the Azerbaijani leadership, whose lack of legitimacy in the eyes of the population constitutes a dangerous vulnerability, still fears a strong military. This vulnerability has been exacerbated by the regime's fearful observation of political change in Georgia, Ukraine, and Kyrgyzstan. The Azerbaijani perspective sees the Nagorno-Karabakh conflict as a political -- not a military -- issue and a source of nationalist credentials deemed essential as the most effective way to ensure regime survival.
The Nagorno-Karabakh Conflict
The Nagorno-Karabakh Conflict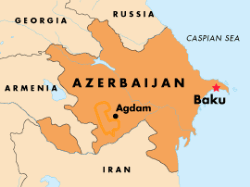 Click on the image to view an enlarged map of the Nagorno-Karabakh conflict zone

In February 1988, the local assembly in Stepanakert, the local capital of the Azerbaijani region of NAGORNO-KARABAKH, passed a resolution calling for unification of the predominantly ethnic-Armenian region with Armenia. There were reports of violence against local Azeris, followed by attacks against Armenians in the Azerbaijani city of Sumgait. In 1991-92, Azerbaijani forces launched an offensive against separatist forces in Nagorno-Karabakh, but the Armenians counterattacked and by 1993-94 had seized almost all of the region, as well as vast areas around it. About 600,000 Azeris were displaced and as many as 25,000 people were killed before a Russian-brokered cease-fire was imposed in May 1994.
CHRONOLOGY: For an annotated timeline of the fighting around Nagorno-Karabakh in 1988-94 and the long search for a permanent settlement to the conflict, click here.

Click on the icon to view images of the Nagorno-Karabakh conflict (Flash required)
To view an archive of all of RFE/RL's coverage of Nagorno-Karabakh,
click here.