Uzbek Rights Activist Sentenced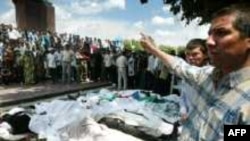 Zaynobiddinov talked to members of the international media about what he witnessed in Andijon (file photo) (AFP) 10 February 2006 -- Reports say a court in Uzbekistan has sentenced a human rights activist who reported on last May's bloodshed in Andijon to seven years in jail.
Human Rights Watch said today that Saidjahon Zaynobiddinov, the head of the human rights group Apelatsiya in Andijon, was convicted of slander, undermining the constitutional order, and membership in an extremist religious group.
It was unclear when the sentence was handed down, given the secrecy surrounding trials that relate to the Andijon events.
Uzbek authorities say 187 people, mostly terrorists, were killed in the Andijon uprising.
Rights advocates estimate the death toll to be much higher, with civilians numbering among the dead.
(AFP)

RFE/RL Central Asia Report

SUBSCRIBE For regular news and analysis on all five Central Asian countries by e-mail,
subscribe to "RFE/RL Central Asia Report."