Sporadic Violence Reported Across Iraq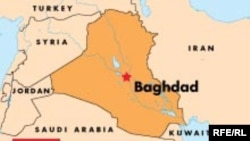 (RFE/RL) 13 February 2006 -- Six Iraqis were killed around the country, and at least five more died in a suicide attack in the capital Baghdad today.
Iraqi security officials say gunmen shot dead four men early in the morning in the city of Ba'qubah, northeast of the capital.
South of Baghdad, in the town of Al-Iskandariyah, a roadside bomb killed two police officers.
In Baghdad, at least five people were killed and many wounded when a suicide bomber set off an explosives belt in a crowd of people outside a bank.
An Interior Ministry official says the bomber detonated his charge as people were waiting for the bank to distribute money in exchange for government ration vouchers that many people use to buy food.
Also in Baghdad, a bomb detonated next to the convoy of former Electricity Minister Ayham Samarra'i, injuring four people.
Later today, the trial of former Iraqi President Saddam Hussein is scheduled to resume. Hussein and seven codefendants face charges over the 1982 killing of 148 people in the village of Al-Dujayl.
(AFP, AP)

SUBSCRIBE For weekly news and analysis on Iraq by e-mail,
subscribe to "RFE/RL Iraq Report."