Hussein, who refused to attend the last two sessions of the trial, was forced to attend today's session.
Dressed in a traditional Arab robe and carrying a Koran, the ousted Iraqi leader entered the courtroom shouting, "Long live Iraq" and "Down with [U.S. President George W.] Bush."
"Long live Iraq! Long live the Arab nation! Down with the agents [of occupation]!" Hussein shouted. "Down with Bush! Long live the nation! Long live the nation!"
The former Iraqi leader and seven codefendants face charges over the 1982 killing of 148 people in the village of Al- Dujayl.
The defense team, including chief defense counsel Khalil al-Dulaimi, are boycotting the proceedings. They say the new head judge, Ra'uf Rashid Abd al-Rahman, is biased against their clients.
Two former senior officials who served under Hussein are due to testify today.
Prosecutors hope that testimony from former foreign intelligence chief Hassan al-Ubaydi and onetime presidential office head Ahmad Khudayir will help establish a chain of command proving Hussein was directly involved in atrocities.
(AFP, AP, dpa)
The Tragedy At Al-Dujayl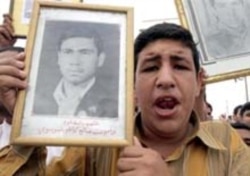 A protester in Baghdad carries a picture of a relative killed at Al-Dujayl (AFP file photo)


READ
Former Iraqi dictator
SADDAM HUSSEIN
and seven of his associates went on trial on October 19, 2005, on charges of crimes against humanity for the regime's role in the deaths of 148 residents from the town of Al-Dujayl, and the imprisonment of 1,500 others following a botched assassination attempt against Hussein there on July 8, 1982. Following the arrests and deportations, the regime leveled the town...
(more)
See also:
Al-Dujayl Native Tells Her Story
Al-Dujayl Survivor Says 'We Want The Deserved Punishment For The Guilty