Kyrgyz Parliament Postpones Debate On Speaker's Resignation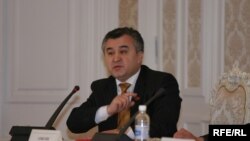 Omurbek Tekebaev (file photo) (RFE/RL) BISHKEK, 13 February 2006 (RFE/RL) -- Kyrgyz lawmakers have postponed the discussion on the resignation of parliament speaker Omurbek Tekebaev for a week, RFE/RL's Kyrgyz Service reported.
Lawmakers said at today's parliament session that deputy speakers Bolot Sherniyazov and Erkin Alimbekov will be performing Tekebaev's functions until 20 February.
On 10 February, a motion to debate Tekebaev's offer to resign failed to gather enough votes in parliament.
Speaking to parliament today, Tekebaev said he preferred to resign rather than apologize for the comments he made on President Kurmanbek Bakiev:

"Sorry, I have preferred to resign than to apologize," Tekebaev said. "I didn't beg pardon from anybody. I wouldn't apologize for the truth."
There were calls for Tekebaev to step down after an independent television channel aired comments by Tekebaev in which he referred to Bakiev as "a dog" and suggested Bakiev "hang himself from the first tree."
(with material from Interfax, ITAR-TASS, AP)