Jose Manuel Barroso made his remarks at a session of the European Parliament in Strasbourg, France.
"Freedom of speech is part of Europe's values and traditions," Barroso said. "Let me be clear: Freedom of speech is not negotiable. Like all freedoms, its preservation depends on responsible use by individuals."
Barroso also said that freedom of speech has limits, and those limits are defined and enforced by EU laws.
Meanwhile, despite diplomatic efforts to defuse the row over the caricatures, thousands of people continued to protest violently in Pakistan. Police said three died and 45 were injured.
Protests also were held in the Philippines, where Muslim protesters burned the Danish flag outside the Danish consulate in the capital Manila.
European Union foreign policy chief Javier Solana is on a Middle East tour to try and defuse the row over the cartoons.
(AFP, AP, Reuters)
Islam In A Pluralistic World
Islam In A Pluralistic World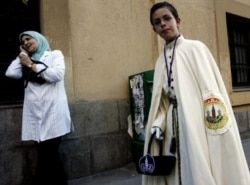 A Muslim woman (left) watches a Christian procession in Madrid in March (AFP)


READ
CONFERENCE ON ISLAM:
A major international conference on Islam concluded in Vienna in November 2005 with strong appeals from prominent Muslim leaders to recognize international terrorism as simply "terrorism." Political figures from Islamic countries, including the presidents of Iraq and Afghanistan, argued that it should never be labeled "Islamic" or "Muslim" terrorism because Islam is based on peace, dialogue, and tolerance. "Salaam" -- meaning "peace" -- was the key word of the three-day conference, titled "
ISLAM IN A PLURALISTIC WORLD
."
Iraqi President Jalal Talibani and Afghan President Hamid Karzai used the word in their remarks to emphasize the peaceful nature of Islam. Other speakers quoted passages from the Koran to the effect that all men and women, regardless of faith, are creatures of God and should live in peace with each other without discrimination
...(more)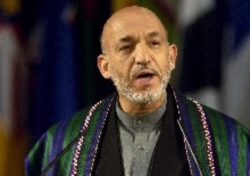 LISTEN
Listen to Afghan President
HAMID KARZAI
's complete address to the Vienna conference (in English):
Real Audio
Windows Media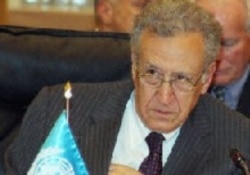 LISTEN
Listen to UN special envoy
LAKHDAR BRAHIMI
's complete address to the Vienna conference (in English):
Real Audio
Windows Media
THE COMPLETE PICTURE:
Click on the image to view a thematic webpage devoted to issues of religious tolerance in RFE/RL's broadcast region and around the globe.