PRAGUE, 8 February 2006 (RFE/RL) -- There are concerns in Washington that some may be trying to manipulate the anger felt across the Islamic world over the publication by mainly European newspapers of cartoons depicting the Prophet Muhammad.
U.S. State Department spokesman Sean McCormack suggests the governments of Syria and Iran may be encouraging violence: "You can contrast what you have heard from other leaders throughout the region -- Iraqi leaders, Saudi leaders -- asking for a return to calm and calls for restraint from the use of violence with, for example, what we have seen in Syria, where a mob burned to the ground two embassies. And I would just add that not too many spontaneous protests occur in downtown Damascus without at least the knowledge and certainly the support of the Syrian government. With respect to Iran, we also have seen attacks against embassies in Tehran. I would also suggest to you that things like that don't happen without the knowledge and/or assistance of the Iranian government."
"By NATO forces coming into action, what happens is that NATO becomes more proactive -- as we are seeing there -- defending themselves or beefing up their forces."
Charges Of Manipulation
Concerns about the manipulation of the cartoon crisis aren't restricted to the United States. Fazl Hadi Shinwari is a conservative Islamist who heads Afghanistan's Supreme Court. With at least 11 people killed during protests across his country in the last three days, Shinwari says Afghan demonstrations have gone awry.
Shinwari tells RFE/RL that the most violent demonstrations -- the storming of NATO bases or the torching of foreign aid workers' offices -- appear to be manipulations by what he calls "the enemies of Afghanistan." It is a phrase usually reserved by officials in Kabul to describe Taliban or Al-Qaeda fighters.
"The demonstrations are changing their nature," he said. "They have gone from being something good to something bad -- from something that was healthy to something that is corrupt. And because of the action of the enemies of the country, it is becoming a destructive movement for Muslims. After this [deadly violence], we request all Muslims -- especially Islamic scholars -- to tell people that these demonstrations have gone too far. If [such violence] goes further, the enemies of Afghanistan will take advantage of this."
Amin Tarzi is an RFE/RL analyst specializing on Afghanistan. He agrees that supporters of the Taliban and Al-Qaeda may be trying to manipulate demonstrations in Afghanistan. But he says some Afghan factional leaders also may be contributing to tensions in a bid to advance their own agenda.
Work Of The 'Spoilers?'
"The fact that the cartoons have enraged Muslims around the world, that is a fact," he said. "And that is there. But in some places -- specifically in Afghanistan -- there is a possibility, and actually it looks like it from the situation on the ground, that the situation is being used by what I call 'the spoilers' -- both domestic and foreign."
Tarzi describes "spoilers" as the armed opponents of Afghanistan's central government -- whether they are Taliban and Al-Qaeda fighters or militia troops who are loyal to powerful regional warlords.
"Throughout Afghanistan, what has happened -- I see the hand of the 'spoilers,'" he continued. "The organization of these demonstrations is very, very good. This is not very usual in the Afghan context. And the second thing is that, other than Kabul, most of the demonstrations are focusing on anti-U.S. sentiments rather than anti-Denmark or anti-Norway or anti-France -- the countries where these cartoons were prominently displayed. So the U.S. is not involved in this issue. Yet you see that this is anti- Americanism. [And] this suggests that there is a greater plan."
One demonstration that did target Norwegian forces turned sour on 7 February when protesters stormed the gates of a NATO compound in Maimana -- the capital of Faryab Province. By the end of the day two Dutch F-16 fighters were called in along with British ground troops as reinforcements.
Dostum Vs. Malik
Tarzi says Maimana could be an example of an internal power struggle in a part of Afghanistan where the Afghan central government is not firmly established -- part of an ongoing factional rivalry between the militias of General Abdul Rashid Dostum and General Abdul Malik.
"Faryab is a province which is [only] under the nominal control of Kabul," Tarzi said. "But [in reality], Faryab is one of the provinces that right now is under the control of General Abdul Rashid Dostum -- who controls about five provinces in northern Afghanistan. However, unlike those other provinces, Faryab is the subject of dispute between [General Dostum] and a former ally of his, General Abdul Malik. There has been sporadic fighting [and] allegations of murders of each other's supporters. So there is a distinct possibility that forces loyal to General Malik may have used the situation to put General Dostum in a precarious situation."
Tarzi stresses that there is no evidence implicating General Malik's supporters in Tuesday's violence. But he says General Malik stands to gain the most from the deployment of additional NATO forces in the area.
"By NATO forces coming into action, what happens is that NATO becomes more proactive -- as we are seeing there -- defending themselves or beefing up their forces," Tarzi said. "This will, in fact, weaken Dostum's grip on Faryab Province. The second issue is that Kabul may become more involved and extend its influence more directly into that region. All of this will help General Malik gain more of a foothold to what he considers to be his place and not Dostum's."
Although Dostum has the title of the chief of staff of the High Command of the Armed Forces of Afghanistan, the title is largely symbolic. But Dostum's militia fighters are considered responsible for maintaining security in five northern provinces where they are deployed -- including Faryab.
Afghan President Hamid Karzai met on 6 February with Dostum to discuss security in those areas. Tarzi says the meeting indicates there are concerns in Kabul that Dostum is either failing to maintain security properly or needs to do more. He says whatever the cause was behind the violence in Maimana, it certainly has put Dostum on the defensive.
The Cartoon Controversy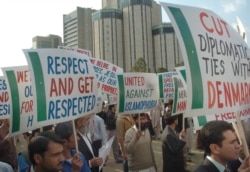 Islamabad residents protesting against the Prophet Muhammad cartoons on February 15 (epa)


An Unfolding Conflict
19 February 2006: A full-page apology by "Jyllands-Posten," dated 5 February, appears in papers in Saudi Arabia. Churches in Libya, Nigeria, and Pakistan are attacked, as too is the U.S. Embassy in Indonesia.
18 February: Forty-five die in Nigeria as churches, hotels, and shops are torched in a predominantly Muslim northern state. Roberto Calderoli resigns from the Italian cabinet after being blamed for riots in Libya that ended with the destruction of the Italian Embassy and the loss of 10 lives. The Libyan interior minister and local police chiefs are sacked for using disproportionate force to quell the riots.
17 February: Ten Libyan protestors are killed during a demonstration that culminates with the burning of the Italian Embassy in Tripoli. Protestors link the demonstrations to the decision of an Italian minister to wear T-shirts showing the cartoons.
16 February: The Russian media watchdog pledges to take a tough line against any organization accused of "insulting religious feelings."
15 February: The Danish government says the Iraqi government wants Danish troops to remain. A far-right Italian minister, Roberto Calderoli, says he plans to wear T-shirts emblazoned with some of the "Jyllands-Posten" cartoons. In Pakistan, three more protestors are killed, one in Lahore and two in Peshawar, as tens of thousands demonstrate.
14 February: Pakistani police shoot dead two protesters in Lahore. In Iran, crowds attack the British and German embassies. Political leaders in the southern Iraqi city of Al-Basrah call for Danish troops to leave the country. In Israel, a cartoonist launches a competition for the best anti-Semitic cartoons by Jews themselves. In Europe, the Portugese president of the European Commission, Jose Manuel Barroso, promises support for Denmark and the democratic system in a dispute that reminds him of his country's dictatorial past.
13 February: A leading Iranian newspaper, "Hamshahri," invites cartoons about the Holocaust in a competition aimed at testing the limits of free speech in the West.
12 February: Intelligence reports suggest Danes in Indonesia are under threat. Denmark urges its nationals to leave the country. It had previously made similar appeals to Danes in many Muslim countries.
10 February: Thousands of Malayans protest, as Western and Muslim political, cultural, and religious leaders gather to discuss differences between the Western and Muslim worlds.
9 February: The Swedish government forces offline a website that asked readers to submit their own cartoons of the Prophet Muhammad.
8 February: Security forces open fire on protestors in the Afghan city of Qalat, killing four, on a day of angry and sometimes violent scenes around the world. Washington accuses the Syrian and Iranian governments of inciting violence.
7 February: Iran's largest newspaper invites cartoons of the Holocaust, saying it wants to test the limits of Western freedom of expression.
6 February: Widespread unrest over the cartoons reported in Afghanistan. One person was reported killed and four wounded in Laghman Province.
6 February: UN Secretary-General Kofi Annan expresses "distress" over the publication of the cartoons, but condemns the violent reactions in the Muslim world.
5 February: The Danish Consulate in Beirut, Lebanon, is torched.
4 February: Mobs burn the Danish, Swedish, Norwegian, Chilean embassies in Syria. Protests in Denmark turn violent.
1 February: Papers in France, Germany, Italy, and Spain run reprints of the cartoons in a show of solidarity.
30 January: The EU says it will take World Trade Organization (WTO) action if the boycott persists. Several Islamic groups, including Hamas and the Egyptian Muslim Brotherhood, call for a worldwide boycott of Danish products. Masked gunmen in storm EU office in Gaza. The Danish paper apologizes.
29 January: "Jyllands-Posten" prints a statement in Arabic saying the drawings were published in line with freedom of expression and not a campaign against Islam. Palestinians burn Danish flags and Libya announces it will close its embassy in Denmark.
28 January: The Danish company Arla places advertisements in Middle Eastern newspapers to try to stop boycott of its products.
27 January: Thousands denounce the cartoons during Friday prayers in Iraq.
26 January: Saudi Arabia recalls its ambassador to Denmark and initiates a boycott of Danish goods.
10 January 2006: The cartoons are reprinted by the Norwegian newspaper "Magazinet."
14 November: Jamaat-e-Islami, a Pakistan-based group, protests in Islamabad.
20 October: Ambassadors of 10 Muslim countries complain to Danish Prime Minister. "Jyllands-Posten" reports that illustrators have received death threats.
30 September 2005: The Danish newspaper "Jyllands-Posten" publishes 12 cartoons of the Prophet Muhammad.
(compiled by RFE/RL)
See also:
Former Jailed Iranian Cartoonist Discusses Muhammad Caricatures
Western, Eastern Media View Cartoon Crisis As Test Of Values