David Albright: No. It'll take them 10 to 20 years -- at least -- to put in 50,000 centrifuges. They don't even know how to put 100 together and operate them successfully, let alone build that number. So I think it's just a threat. If you remember, Iranian officials said this same work was research, nothing beyond research, just what people would do at a university. Now, one or two weeks later, they call it "installing 50,000 centrifuges." So what this means is that they just choose words to suit their propaganda, essentially, and it was convenient for them to call it research before the [IAEA's] board of governors meeting to try to trivialize it; they want to now call it "installing 50,000" centrifuges to exaggerate it and threaten us.
RFE/RL: Yes, but they said before that if Iran is referred, or even reported, to the UN, they would start full-scale enrichment at Natanz. That's what they said.
Albright: Yes, but they're doing the exact same thing they were doing a week ago. They're preparing to restart making or assembling centrifuges. They've got to do a lot of work to learn how to operate a 164-machine cascade. [It] will probably take six months to a year to master just that operation. They then have to start expanding the pilot plant. So it's going to take them several years to get to the point where they could put together a couple thousand centrifuges, and they may very well could fail, because they have many technical hurdles that they have to overcome, some of which they don't even know about yet.
RFE/RL: Then, Dr. Albright, why is everybody so worried, if they are so far from doing anything.
Albright: The reason people are concerned is because of what Iran does. It doesn't cooperate with the IAEA. It now just reduced cooperation further with the IAEA today [Iran on 6 February refused to allow the IAEA to conduct snap inspections]. It makes these kind of threats. They're not telling the truth in many cases about what they're planning to do. And so there's [a] worry that they plan in secret to build an enrichment plant for highly enriched uranium for nuclear weapons. And whether that happens in one year, three years, five years, the time to do something is now, before they get close to nuclear weapons, and so it's important for the international community to start putting pressure on Iran. And if they won't give up these activities to enrich uranium, then, they'll have to just accept that they will live isolated. And what I would say is [that the] lack of urgency removes any need to talk about military options, but the diplomacy needs to actually be accelerated because Iran is reducing its cooperation with the IAEA.
A Time For Diplomatic Urgency
RFE/RL: Hans Blix [the UN's former chief weapons inspector] told me the other day that Russia's proposal, basically, is a guarantee that Iran would not go beyond the level of 3 percent enrichment.
Albright: The Russians, yes. But the Russian offer is based on Iran not building any enrichment facilities inside Iran. If they enrich in Russia, then they wouldn't have any enrichment facilities inside Iran, and then there would be assurance -- not complete assurance; you'd still need very robust inspections but you'd gain assurance -- that they're not building this centrifuge plant in secret, and Iran would get the fuel it needs for its power reactor.
RFE/RL: How can they cheat while they are taking Russia's proposal, if they take it?
Albright: They could cheat if they build a centrifuge plant in secret. They have components for probably at least 2,000 centrifuges already done, and they could take those, hide them, and then turn them into centrifuges. So the Russian deal has to be accompanied by safeguards in Iran that have the Additional Protocol [an addendum to the Nuclear Nonproliferation Treaty that relates mainly to nuclear research and the assembly of nuclear technology], and probably what we'd call "additional protocol plus," additional measures Iran would take until confidence built up.
RFE/RL: But they have only a few hundred operational, I mean, working...
Albright: They don't have a few hundred operational [centrifuges], but they've got them in parts; they're disassembled. They have a couple thousand at least in disassembled form that they're now moving to assemble, I believe. So it'll take a while. They can do about 70-100 a month at the current pace. They could speed it up, but basically it's going to take them a while.
RFE/RL: But does Iran have the industrial capability?
Albright: The trouble with these kinds of programs in nations like Iran is that, yes, much of the industry doesn't work, but when they put their mind to it, they devote the resources, they can get it to work. It just takes a long time. And the best example is Pakistan. I mean, they had no capability -- industrial -- in the 1970s when they started their gas centrifuge plant, but they succeeded in the end.
RFE/RL: Sure. If they have enough time, and money, they will be able to.
Albright: They have enough money. They have the know-how now, because [Dr AQ] Khan [the father of Pakistan's atomic bomb] gave them the designs, gave them the books to manufacture centrifuges, helped them during the 1990s. So they learned enough. It's a question if they have enough time. And so we'll see. The U.S. government and a lot of people believe that Iran doesn't want to be isolated -- let me put it this way, the Iranian regime doesn't want to be isolated -- and it doesn't want to be subject to sanctions. So we'll see if those things, or the threat of those things, change Iran's behavior.
Security Guarantees For Iran?
Security Guarantees For Iran?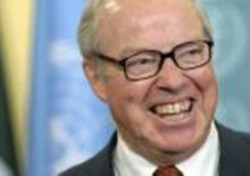 Hans Blix (CTK)

SECURITY GUARANTEES On January 26, RFE/RL Radio Farda correspondent Fatemeh Aman spoke with former UN chief weapons inspector HANS BLIX about the confrontation between Iran and the international community over Tehran's nuclear ambitions. Blix urged the United States to participate in direct negotiations with Tehran and to offer Iran security guarantees that are similar to those being discussed with North Korea...(more)
LISTEN
Listen to the complete interview (about five minutes):

Real Audio
Windows Media

THE COMPLETE STORY: RFE/RL's complete coverage of controversy surrounding Iran's nuclear program.