Ukraine Detains Six Uzbeks In Crimea Raid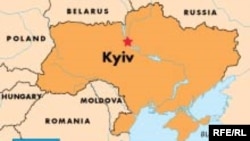 (RFE/RL) 15 February 2006 (RFE/RL) -- Ukraine's Interior Ministry says six Uzbek nationals were detained in a recent raid in Crimea, but is refusing to say whether they were detained at the request of Uzbek authorities, RFE/RL's Uzbek Service reported.
Earlier media reports said 10 Uzbek nationals were detained for alleged involvement in last year's unrest in the eastern Uzbek city of Andijon.
Oleksandr Dombrovskiy, spokesman for the Interior Ministry's Crimean Division, today told RFE/RL that the ministry is considering extraditing the six men to Uzbekistan.
"We have information on six Uzbek citizens," Dombrovskiy said. "Five of them were detained in Belohirsk district, one in Nyzhnohirsk. These citizens came to Ukraine for three months. Three months later, they did not leave Ukraine as they ought to. So they were [detained]. They had to pay 340 hrivna each as a fine, it's equal to some $60. Some of them had been [detained] several times before. Now we are considering extraditing them [to Uzbekistan]."
Dombrovskiy said the six were detained in a police raid against illegal migrants. He refused to elaborate on whether the detained were suspected in involvement to the Andijon uprising.
Uzbek authorities say 187 people -- mostly extremists -- were killed in Andijon unrest. Rights advocates put the death toll much higher, saying that civilians numbered among the dead.
In recent months, Uzbek courts have jailed over 150 people for their alleged involvement in the Andijon uprising.
(with material from UNIAN, AP)


A dedicated webpage bringing together all of RFE/RL's coverage of the events in Andijon, Uzbekistan, in May 2005 and their continuing repercussions.
CHRONOLOGY
An
annotated timeline
of the Andijon events and their repercussions.