Media Group Concerned Over Fate Of Iranian Journalist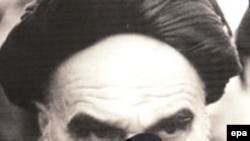 Two women pass an image of the late Ayatollah Khomeini, leader of the Islamic Revolution in Iran (file photo) (epa) PARIS, 17 February 2006 (RFE/RL) -- The Paris-based media rights group Reporters Without Borders (RSF) is expressing concern over the fate of an Iranian journalist who they say is now in a coma after attempting to commit suicide in jail.
Elham Afrutan was arrested on 29 January in the southern town of Bandar-e Abbas. She was one seven journalists from the provincial weekly "Tamadone Hormozgan" taken into police custody for "insulting Ayatollah Khomeini, the founder of the Islamic Republic."
Speaking on 17 February, RSF spokesman Reza Moini said that "until today there has been no information about her."
RFE/RL's Radio Farda reports that the Iranian newspaper "Hambastegi" on 16 February cited the governor of Hormozgan Province, Abdolreza Sheykoleslami, as confirming that Afrutan had attempted to kill herself on two occasions.
Afrutan and her colleagues were reportedly arrested for a satirical piece comparing the advent of Ayatollah Khomeini to AIDS.