U.S. Grants Ukraine Market-Economy Status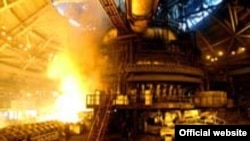 A Ukrainian steel mill (file photo) (official site) PRAGUE, 17 February 2006 (RFE/RL) -- U.S. Deputy Commerce Secretary David Sampson formally announced in Kyiv today that the United States has granted market-economy status to Ukraine.
The news came as no surprise, as Washington gave notice back in July that it intended to grant market economy status to Ukraine.
The timing comes as a welcome boost to Ukraine's beleaguered President Viktor Yushchenko, who faces an examination of his term in office during parliamentary elections in March.
The U.S. move follows a decision by the European Union to grant Kyiv market-economy status, announced by British Prime Minister Tony Blair during a state visit in December. Yushchenko described the EU decision as a "huge step" for Ukraine.
At the time of the EU decision, European Commission President Jose Manuel Barroso said Ukraine had come a very long way in a very short time and had met the key technical criteria required to obtain its new status.
Evidently, Washington has come to the same conclusion. Askold Krushelnycky, a close observer of Ukrainian affairs, who has just written a book on the Orange Revolution that swept Yushchenko to power, sees today's recognition as an important boost to Ukraine's trade prospects.
"Ukraine does need to improve the situation with the United States," Krushelnycky says. "They've been pressing for a Soviet-era measure which blocks trade or hampers trade, called the Jackson-Vanik amendment, to be lifted and Ukraine wants to broaden its trade base."
At present, Ukraine's main trading partner is the European Union, followed closely by Russia. But its steel producers are longing for a chance to break into the U.S. market. Today's step removes at least one of the obstacles on the way. Ukraine will be better protected now against charges of illegally dumping goods on the U.S. market.
Just as critically, the U.S. recognition -- like that of the EU before it -- helps pave the way for Kyiv's membership in the World Trade Organization.
That momentous step, however, will depend on whether Ukraine's next parliament will be able to pass the raft of legislation still required for its membership to be considered.
WTO Status Of RFE/RL Broadcast Countries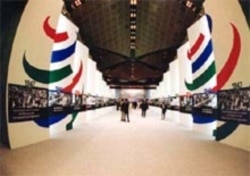 An exhibition of the history of the WTO in Singapore in 1996 (courtesy photo)

WTO Members:
Armenia: Joined on 5 February 2003.
Croatia: Joined on 30 November 2000.
Georgia: Joined on 14 June 2000.
Kyrgyzstan: Joined on 20 December 1998.
Macedonia: Joined on 4 April 2003.
Moldova: Joined on 26 July 2001.
Romania: Joined on 1 January 1995.
Countries That Are Not Yet WTO Members:
Afghanistan: Submitted its application in November 2004.
Azerbaijan: Submitted its application in June 1997.
Bosnia-Herezgovina: Submitted its application in May 1999.
Belarus: Submitted its application in September 1993.
Iran: Submitted its application in July 1996.
Iraq: Submitted its application in September 2004.
Kazakhstan: Submitted its application in January 1996.
Russia: Submitted its application in June 1993.
Serbia and Montenegro: Submitted separate applications in December 2004.
Tajikistan: Submitted its application in May 2001.
Ukraine: Submitted its application in November 1993.
Uzbekistan: Submitted its application in December 1994.
For more information, click here.
For an exclusive RFE/RL interview with former WTO head MICHAEL MOORE,click here.