PRAGUE, 19 February 2006 (RFE/RL) -- Following Tehran's decision last week to resume small-scale uranium enrichment, together with contradictory statements by Iranian officials, there is growing skepticism that Iran will accept the compromise on enrichment offered by Russia.
Russia has proposed to carry out uranium enrichment for Iran and then give the fuel to the Islamic republic. There have been talks about setting up a joint venture for that purpose and even involving other countries.
Nuclear Fuel And Nuclear Bombs
The proposal would guarantee Iran the nuclear fuel it needs for the nuclear reactors it is building. At the same time, it would allay Western fears that Tehran could use the material secretly to develop nuclear weapons.
Enriched uranium can be used as fuel in civilian nuclear reactors but, at a high level of enrichment, it can also be used to produce nuclear bombs.
On 25 January Iran's top nuclear negotiator, Ali Larijani, said the Russian proposal is a good idea. But he added that Tehran believes the plan needs to be "improved" during talks.
On 11 February, during a speech marking the anniversary of the 1979 Islamic Revolution, President Mahmud Ahmadinejad questioned the sincerity of the Russian proposal.
'Do You Think We Believe You?'
"They tell us: 'We accept that you need it, but you should not produce [nuclear] fuel yourself; we will produce the fuel somewhere else and we will deliver it to you.' We tell you: 'Strange! Do you think we believe you?'" he said.
On 14 February, one day after Iran announced that talks with Russian officials in Moscow had been postponed, Iranian Supreme National Council Deputy Secretary Javad Vaidi announced that talks will resume in Moscow on 20 February, but he said Iran insists on enriching uranium on its own soil.
David Albright, a former UN weapons inspector and the president of the Institute for Science and International Security (ISIS) in Washington, D.C., tells RFE/RL the Iranian interest in the Russian offer tends to go with the pressure on Iran.
"You may see Iran warming up to the idea of an agreement; I would largely interpret that as political posturing on the part of Iran, [because] they're faced with a Board of Governors meeting at the International Atomic Energy Agency [on 6 March] and they want to reduce the possibility that they will referred to the UN Security Council," Albright says. "So I think Iran will, at this meeting, probably take some steps with Russia to act as if its interested."
Albright adds that it is unlikely that Tehran and Russia would reach an agreement in the near future as Tehran has not made "a strategic decision" to give up its domestic uranium-enrichment program.
RFE/RL Russian affairs analyst Victor Yasmann believes there is little chance that Tehran and Moscow will reach an agreement this week.
"Russia has made quite a lot of efforts to push...for this deal but it seems that Tehran is not so interested in this," Yasmann says. "Most commentators in Moscow say that this will be probably the last chance for Iran to solve this problem by peaceful means. Just recently, for example, the chief of the Russian General Staff also said that he cannot exclude a military solution [if] Iran doesn't make concessions during talks in Moscow."
Will Tehran Make A Gesture?
But Albright says Iran could still resolve the current crisis and prevent a referral to the UN Security Council for possible sanctions.
"If Iran suspended its enrichment-related activities, then negotiations could start again," Albright says. "They certainly have to reverse course and stop the enrichment and reimpose the suspension [on uranium enrichment]. If they did that they would probably not be referred to the Security Council and I think that's more likely than Iran accepting the Russian proposal."
Both analysts agree that Russia, which is building Iran's first nuclear reactor, could harden its stance if Tehran rejects its proposal.
"My feeling is that relations with the U.S. are much more important to Russia than relations with Tehran," Yasmann says. "In case Iran doesn't make any deal on Monday, Russia will slowly move on the side of U.S. and EU."
The United States and the EU back a referral of Iran to the UN Security Council, which could impose sanctions against Tehran.
On 14 February, Russia and France called on Iran to cease all work linked with uranium enrichment and said that the Russia's proposal was an opportunity for Iran to resolve the issue.
One day later, EU Justice Commissioner Franco Frattini also urged Tehran to accept the Russian plan. "If Iran returns to a suspension of its enrichment activities and accepts the Russian proposal, the [UN] Security Council track may not prove necessary," Frattini said.
IAEA Final Resolution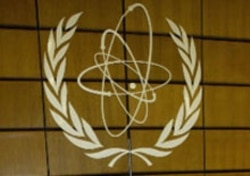 READ
On 4 February, the Board of Governors of the International Atomic Energy Agency approved in a 27-3 vote a resolution to report the matter of Iran's nuclear program to the United Nations Security Council. The key section of the resolution is Section 1, which states that the Board of Governors:
Underlines that outstanding questions can best be resolved and confidence built in the exclusively peaceful nature of Iran's program by Iran responding positively to the calls for confidence-building measures which the Board has made on Iran, and in this context deems it necessary for Iran to:
reestablish full and sustained suspension of all enrichment-related and processing activities, including research and development, to be verified by the Agency;
reconsider the construction of a research reactor moderated by heavy water;
ratify promptly and implement in full Additional Protocol;
pending ratification, continue to act in accordance with the provisions of the Additional Protocol with Iran signed on 18 December 2003;
implement the transparency measures, as requested by the Director General, which extend beyond the former requirements of the Safeguards Agreement and Additional Protocol, and include such access to individuals, documentation relating to procurement, dual use equipment, certain military-owned workshops and research and development as the Agency may request in support of its ongoing investigations.
COMPLETE TEXT: To read the final resolution, with late-hour changes highlighted, click here.

THE COMPLETE PICTURE: RFE/RL's complete coverage of controversy surrounding Iran's nuclear program.