PRAGUE, 20 February 2006 (RFE/RL) -- The Moscow negotiations are taking place behind closed doors at Russia's Security Council.
The head of the Iranian delegation, Supreme National Security Council Deputy Secretary Ali Hosseinitash, was scheduled to first hold talks with his Russian counterpart, Valentin Sobolev, and Russian Deputy Foreign Minister Sergei Kislyak. He was then due to meet with Russia's Security Council Secretary Igor Ivanov.
Russian Foreign Minister Sergei Lavrov today told President Vladimir Putin at a cabinet meeting he was moderately optimistic about the outcome of the talks. "Frankly speaking, we are guarded in our expectations." he said. "But we will [make] all necessary efforts so that the situation does not deteriorate and lead to a forcible solution."
Moscow is proposing that Iran's uranium be enriched on Russian soil by a joint venture that could also include other countries. Under the plan, the nuclear fuel would be shipped to Iran for civilian use and returned to Russia for reprocessing.
Mixed Signals
Iranian officials have given contradictory signals about the Russian offer. They first said they were interested, before recanting their initial statements. Western diplomats fear Tehran may just be playing for time as it faces referral before the UN Security Council and possible international sanctions.
"We believe confidence-building is a two-way road, not a one-way road. In our relations with Europe, we've always been honest and we've always [met] our commitments."
Both the European Union and the United States have welcomed Russia's enrichment offer, saying it could be a way to break the current deadlock.
Iran's Foreign Minister Manuchehr Mottaki, addressing reporters today after talks with his Belgian counterpart Karel De Gucht in Brussels, called upon the EU to demonstrate its willingness for genuine dialogue.
"We believe confidence-building is a two-way road, not a one-way road. In our relations with Europe, we've always been honest and we've always [met] our commitments," Mottaki said. "But from the other side, we do not have such an approach."
RFE/RL Russia analyst Viktor Yasmann said Moscow, which is helping Iran build a nuclear power plant in Bushehr, is interested in avoiding further confrontation between Iran and the West. "Iran is one of Russia's most important neighbors in the Caspian [Sea region]. Because this geopolitical situation cannot be changed, Russia is interested in [preserving] stability in this region."
Yasmann believes there is another reason behind Moscow's efforts to defuse the Iran nuclear crisis.
"Russia is the only G8 [Group of Eight] country, which is also a producer of energy and an exporter of oil and gas. In that capacity, [it] would like to be a kind of mediator between OPEC member states -- [that is] other oil and gas producing countries -- and the G8," Yasmann said.
Possible Gains For Tehran
Aleksandr Pikayev heads the Disarmament and Conflict Resolution Department at the Russian Academy of Sciences' World Economy and International Relations Institute (IMEMO). He told RFE/RL's Tajik Service that Moscow's offer could also profit Tehran.
"That plan would help Iran save a substantial amount of money when producing nuclear fuel. Iran does not have such fuel and is currently unable to produce it independently. In order to do so, it would probably need years of work and substantial funds," Pikayev said. "Using Russian firms, on the other hand, would be economically more profitable [for Iran]. First, Russia has a great deal of experience in this field and is already producing large amounts of nuclear fuel. Consequently, Iran could get nuclear fuel at a much lower price than if it tried to have its own production facility."
Iran's Supreme Council National Security Deputy Secretary Javad Vaeidi on 14 February cast an apparent shadow on the upcoming Moscow talks by saying his country insisted on enriching uranium on its soil.
However, there still may be room for compromise.
Reports say the head of the UN's International Atomic Energy Agency (IAEA) recently came to the conclusion that Tehran should be authorized to conduct limited enrichment activities.
Western news agencies on 17 February quoted diplomats as saying Muhammad el-Baradei is considering letting Iran operate a pilot enrichment facility at Natanz in return for guarantees that it will not conduct suspicious nuclear work on an industrial scale.
While still publicly demanding that Tehran shelve all enrichment activities, el-Baradei has reportedly started admitting in private that Iran's claims that it has the sovereign right to produce nuclear fuel is a political reality, which the world has to accept.
The Reuters news agency on 19 February quoted an unidentified diplomat close to the IAEA as saying the international community may eventually have to compromise on the Iran nuclear issue.
Mottaki in turn has welcomed el-Baradei's reported suggestion, saying it constituted "a step forward." Iran's official IRNA news agency on 18 February quoted him as saying that while defending its "legitimate rights" to conduct nuclear activities, Tehran was willing to alleviate Western concerns that these activities may not be peaceful.
Commenting on his talks with Golamrezah Ansari, the Iranian ambassador to Moscow, Russian State Duma Foreign Affairs Committee Chairman Konstantin Kosachev on 16 February said Tehran was aware of the difficult situation and ready to continue dialogue with a view to hammering out a compromise.
(RFE/RL's Tajik Service correspondent Rasul Shadiyev contributed to this report from Moscow)
IAEA Final Resolution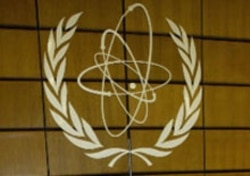 READ
On 4 February, the Board of Governors of the International Atomic Energy Agency approved in a 27-3 vote a resolution to report the matter of Iran's nuclear program to the United Nations Security Council. The key section of the resolution is Section 1, which states that the Board of Governors:
Underlines that outstanding questions can best be resolved and confidence built in the exclusively peaceful nature of Iran's program by Iran responding positively to the calls for confidence-building measures which the Board has made on Iran, and in this context deems it necessary for Iran to:
reestablish full and sustained suspension of all enrichment-related and processing activities, including research and development, to be verified by the Agency;
reconsider the construction of a research reactor moderated by heavy water;
ratify promptly and implement in full Additional Protocol;
pending ratification, continue to act in accordance with the provisions of the Additional Protocol with Iran signed on 18 December 2003;
implement the transparency measures, as requested by the Director General, which extend beyond the former requirements of the Safeguards Agreement and Additional Protocol, and include such access to individuals, documentation relating to procurement, dual use equipment, certain military-owned workshops and research and development as the Agency may request in support of its ongoing investigations.
COMPLETE TEXT: To read the final resolution, with late-hour changes highlighted, click here.

THE COMPLETE PICTURE: RFE/RL's complete coverage of controversy surrounding Iran's nuclear program.