BRUSSELS, 20 February 2006 (RFE/RL) -- Iran's attempts to return to the negotiating table were rebuffed today by the EU.
The EU's foreign policy chief, Javier Solana, told reporters in Brussels after meeting Iranian Foreign Minister Manuchehr Mottaki that Iran's position had not changed. He said Iran must be "much more constructive."
Solana said the EU would wait to see if Iran's talks with Russia in Moscow produced any results. Late today, there was news that the day-long talks there were inconclusive.
A Question Of True Intention
At issue is Iran's continued insistence on the right to the full nuclear cycle. Mottaki said in Brussels that Iran will continue striving to complete the nuclear cycle.
"We continue our cooperation from where we are now. It means the research department will continue its activity and [that] the Russian proposal is for major fuel production, nuclear fuel production," he said.
Iran appears prepared in principle to negotiate details about letting Russia produce the nuclear fuel for its power plants. Its insistence on having the means and the know-how to produce nuclear fuel has made the EU and United States suspicious that the country is trying to hide its intention to manufacture nuclear weapons.
Iran insists its nuclear program pursues peaceful aims. It also says it has a right to a full nuclear program under the Nuclear Non-Proliferation Treaty, of which it is a signatory. These points were made again by Mottaki in Brussels and the Iranian negotiators in Moscow.
No International Confidence
EU officials said they want to resolve the standoff peacefully. Emma Udwin, a European Commission spokeswoman, said the bloc's external relations commissioner, Benita Ferrero-Waldner, told Mottaki that Iran is isolating itself.

"The Commissioner made it very clear that we have no wish, no intention, to isolate Iran," Udwin said. "Rather, we very much hope that Iran will not choose to isolate itself."

Udwin said the EU does not have enough confidence in Iran after it resumed uranium-enrichment activities. She said Iran must break off enrichment to restore confidence.

Speaking before the European Parliament's foreign affairs committee, Mottaki argued that confidence is – in his words – "a two-way road." He said Iran does not trust the West to supply the nuclear fuel it needs.

Insisting On Access
Earlier, Mottaki indicated that Iran does not see a Russian offer to produce nuclear fuel as straightforward, either.

"In the Russian proposals, some main elements should be considered as well as the participants in that project, the place or places of enrichment, the period of time, the period of implementation of this project," he said.
In any event, Mottaki repeated that the EU and the United States must accept Iran's right to access to nuclear technology and enrichment.

This would appear to leave no room for compromise. The Board of Governors of the International Atomic Energy Agency (IAEA) will meet in Vienna on 6 March to consider the situation.
The EU supported a decision by the IAEA earlier this month to refer Iran to the UN Security Council.

The EU's View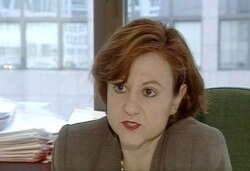 Christina Gallach (courtesy photo)
ALL EYES ON RUSSIA:
On February 21, Radio Farda correspondent Fariba Mavaddat spoke with
CHRISTINA GALLACH,
spokeswoman for EU High Representative for Common Foreign and Security Policy Javier Solana, about the previous day's meetings in Brussels between EU leaders and Iranian Foreign Minister Manuchehr Mottaki. Gallach emphasized that there are currently no negotiations being conducted between Iran and the EU regarding Iran's nuclear program.
To read a complete transcript of the interview,
click here
.
To view the complete archive of RFE/RL's coverage of Iran's nuclear program, click here.