Ghukasian construed Azerbaijan's rejection of such direct talks as reflecting a lack of interest in reaching a negotiated solution.
"The negotiating process that was going on within the Minsk Group framework is non-existent today...." he told RFR/RL. "We can find a way out of this situation only in a real negotiating format involving Nagorno-Karabakh.... When Azerbaijan talks only to Armenia without Nagorno-Karabakh, Azerbaijan engages only in propaganda. Once Azerbaijan starts talking to Karabakh, for me it will be a signal that Azerbaijan is looking for a solution to the issue."

Nagorno-Karabakh, a region within Azerbaijan, is predominantly ethnic Armenian. Following the unilateral 1991 declaration of Nagorno-Karabakh's independence from Azerbaijan, hitherto sporadic fighting escalated into a full-fledged war in which Armenian forces took control of swathes of neighboring Azerbaijani territory.

The three sides -- Armenia, Azerbaijan, and the unrecognized Nagorno-Karabakh Republic -- signed a cease-fire agreement in May 1994.

The Minsk Group was created in 1992 to mediate a solution to the conflict, and Nagorno-Karabakh representatives regularly participated in talks with Armenia and Azerbaijan under its aegis until 1996. But following the appointment of then NKR President Robert Kocharian as Armenian Prime Minister in early 1997, the enclave was excluded from such talks.

Push To Open Up Negotiations

Ghukasian, who was elected Kocharian's successor in 1997, told RFE/RL on 18 February that he sees only one way to change that: Armenia should opt out of further talks and let Stepanakert make its own case with Baku.

"There is only one way Karabakh can enter the negotiating process: Armenia's refusal to negotiate with Azerbaijan," Ghukasian said. "There is no other way out. As long as Armenia talks to Azerbaijan without [the involvement of] Nagorno-Karabakh, Azerbaijan will refuse to negotiate with Karabakh. It's as simple as that."
Armenian officials have repeatedly called for the inclusion of Karabakh representatives in talks under the Minsk Group aegis, but have not shown any sign of willingness to relinquish their role in the peace process.
At the same time, Ghukasian acknowledged that tactic is not without risks. Azerbaijan might be tempted to take advantage of the Armenian refusal either to delay a settlement indefinitely or to launch a military campaign to bring Karabakh back under its control.

Azerbaijan has doubled and even trebled military spending in recent years, and senior officials, including President Ilham Aliyev and Defense Minister Colonel General Safar Abiyev, have repeatedly hinted that if negotiations fail to yield a settlement on Baku's terms, Azerbaijan would be justified in resorting to arms.

Armenian officials, for their part, have repeatedly called for the inclusion of Karabakh representatives in talks under the Minsk Group aegis, but have not shown any sign of willingness to relinquish their role in the peace process.

Resolution Hopes

The Minsk Group co-chairs said in December 2005 and January 2006 that talks between the Armenian and Azerbaijani foreign ministers in 2005 yielded progress towards a solution to the conflict, and hinted that 2006 might bring a major breakthrough.
Those predictions raised hopes that at their summit in Rambouillet, France on 10-11 February, the presidents of Armenia and Azerbaijan, Kocharian and Aliyev, might actually sign a short declaration of basic principles that would serve as the foundation for a more detailed and comprehensive settlement.
In the event, the two presidents failed to do so. A diplomat involved in the talks later told RFE/RL that the two key sticking points are Karabakh's future status and the timeframe for the withdrawal of Armenian forces from Azerbaijan's Kelbacar district, which lies between the NKR and the Armenian-Azerbaijani border.
Independence Recognition

Ghukasian suggested that in the event that no progress is made in the peace talks, the Karabakh leadership might seek to pressure the Armenian leadership to recognize the NKR as an independent state. "I think that if all goes on like this, if we see that Azerbaijan is really unprepared for concessions we will have to raise the issue of Armenia's recognition of Karabakh," he said.
Successive Armenian leaderships have insisted that Yerevan will not be the first state to acknowledge Karabakh's independence, although it would follow suit immediately after another state sets the precedent. The Karabakh leadership's claims to independence derive from a referendum held in November 1991 in accordance with Soviet legislation still in force at that time that granted autonomous formations the same theoretical right to secede from the union republics of which they were a part that the union republics enjoyed vis-a-vis the USSR.

Ghukasian's interview coincided almost to the day with the 20 February 1988 appeal by the local Soviet of the then Nagorno-Karabakh Autonomous Oblast to the USSR Supreme Soviet to designate the region part of the Armenian Soviet republic. It was that appeal that served as the catalyst for a conflict that has lasted 18 years, and has polarized the populations of Armenia and Azerbaijan. On 18 February -- the day of Gukasian's interview -- the online daily echo-az.com reported that some Azerbaijanis now support the idea of building a "great wall" along the border between the two countries -- not so much for defense, but as a reminder to future generations of Armenia's "aggression" and "inherent hostility."
(RFE/RL's Armenian Service contributed to this report)
The Nagorno-Karabakh Conflict
The Nagorno-Karabakh Conflict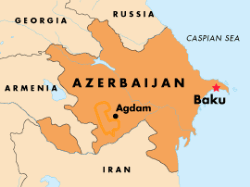 Click on the image to view an enlarged map of the Nagorno-Karabakh conflict zone

In February 1988, the local assembly in Stepanakert, the local capital of the Azerbaijani region of NAGORNO-KARABAKH, passed a resolution calling for unification of the predominantly ethnic-Armenian region with Armenia. There were reports of violence against local Azeris, followed by attacks against Armenians in the Azerbaijani city of Sumgait. In 1991-92, Azerbaijani forces launched an offensive against separatist forces in Nagorno-Karabakh, but the Armenians counterattacked and by 1993-94 had seized almost all of the region, as well as vast areas around it. About 600,000 Azeris were displaced and as many as 25,000 people were killed before a Russian-brokered cease-fire was imposed in May 1994.
CHRONOLOGY: For an annotated timeline of the fighting around Nagorno-Karabakh in 1988-94 and the long search for a permanent settlement to the conflict, click here.

Click on the icon to view images of the Nagorno-Karabakh conflict (Flash required)
To view an archive of all of RFE/RL's coverage of Nagorno-Karabakh,
click here.