Lukashenka Tightens Security In Run-Up To Elections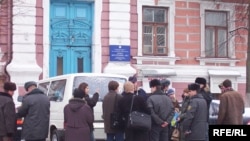 Belarusian police inspect a minibus carrying members of a Swedish political party earlier this month (RFE/RL) 21 February 2006 -- Belarusian President Alyaksandr Lukashenka today called on law-enforcement agencies to step up security measures to ensure stability in the run-up to next month's presidential election.
Lukashenka accused Western nations of seeking to interfere in the country's internal affairs. He urged police to work "preemptively" to ensure stability ahead of the 19 March vote. He didn't go into details.
Lukashenka is seeking a third term in office in an election that the United States, the European Union, and Belarus's opposition say is not likely to be fair.
(AP)

Video Roundtable On Belarus/Ukraine


On December 8, 2005, RFE/RL and the Policy Association for an Open Society (PASOS) jointly conducted a roundtable discussion on issues relating to Belarus's post-Soviet transition. To view video of the roundtable, click here.
See also:
Belarus: Authorities 'Cleanse' Media Ahead Of 2006 Vote
Can Belarus's Opposition Unite To Challenge Lukashenka?