U.S. Reviewing Policy Of Planting Stories In Iraqi Media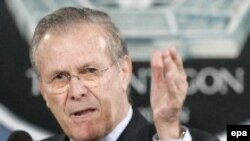 Rumsfeld previously said the policy had ended, but today he said it was only being reviewed (file photo) (epa) 21 February 2006 -- U.S. Defense Secretary Donald Rumsfeld says the Pentagon is reviewing the U.S. military's practice of paying to plant stories in the Iraqi news media.
In a speech last week, Rumsfeld said the controversial practice had been stopped. But he revised his words in a Pentagon news conference today, saying the practice is under review.
The aim of the program, which has been criticized, is to have stories favorable to the United States appear in the Iraqi media, and thus be read by Iraqis.
Rumsfeld also addressed the mixed signals coming from Iraqi leaders over the type of government they would like to eventually see take shape in Iraq. He said Iraqis are going through a complex political process.
Rumsfeld added that he himself has no problem with a controversial deal in the United States that will permit a company based in the United Arab Emirates to take over operations at six major U.S. seaports. The plan has encountered stiff political opposition in the U.S. Congress.
(AP)


SUBSCRIBE For weekly news and analysis on Iraq by e-mail,
subscribe to "RFE/RL Iraq Report."