EU-Funded News To Air In Belarus Ahead Of Vote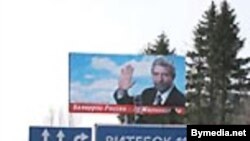 An election billboard showing the leading opposition candidate Alyaksandr Milinkevich (file photo) (Bymedia.net) 23 February 2003 -- European Union officials have denied that EU-funded news programs to be broadcast in Belarus ahead of next month's presidential election will be propaganda, arguing that the broadcasts are necessary because of the tight controls imposed on the media in Belarus.
Belarusian President Alyaksandr Lukashenka, who is running for a third term in the 19 March election, has been widely accused of harassing the opposition and limiting its access to the media.
EU External Relations Commissioner Benita Ferrero-Waldner said in a statement that tight controls on the media make it impossible to Belarusians to find independent sources of information.
The first programs will be broadcast on 26 February on the radio, television, and Internet. They are part of a wider 2 million euros ($2.4 million) fund set up to support journalists and the media in Belarus over the next two years.
(AFP)

Video Roundtable On Belarus/Ukraine


On December 8, 2005, RFE/RL and the Policy Association for an Open Society (PASOS) jointly conducted a roundtable discussion on issues relating to Belarus's post-Soviet transition. To view video of the roundtable, click here.
See also:
Belarus: Authorities 'Cleanse' Media Ahead Of 2006 Vote
Can Belarus's Opposition Unite To Challenge Lukashenka?