UNITED NATIONS, 23 February 2006 (RFE/RL) -- Angry demonstrators were outside the Italian Embassy in Tehran on 22 February, one of the latest in a wave of protests around the Muslim world over cartoons depicting the Prophet Muhammad.
At least 50 people have been killed in the protests, which were sparked by the cartoons' publication in some European newspapers.
Annan's main concern is that extremists are inciting violence and attempting to exploit the situation for their own agendas, which have little to do with Islam.


There have been calls from political and religious leaders for calm and tolerance, and the demonstrations now appear more subdued than when the controversy first erupted several weeks ago. UN Secretary-General Kofi Annan hopes his visit to Qatar will help end the violence.

"The secretary-general has been clearly on the record recently as to an appeal for calm, to stop the violence, and to use this opportunity to start a true dialogue so people of different faiths can come together and explain to each other what [are] ways to avert this type of crises, and also the need to depoliticize this issue as it currently is," said Annan's spokesman, Stephane Dujarric.

Annan is scheduled to address a Doha meeting of the Alliance of Civilizations, a panel he helped set up last year. Its aim is to bridge gaps between cultures -- like the one highlighted by the cartoons, with free-speech advocates pitched against those who see the cartoons as blasphemous.
An Excuse To Incite Violence
Annan's main concern, he has said repeatedly, is that extremists are inciting violence and are attempting to exploit the situation for their own agendas, which have little to do with Islam.

Annan said he has undertaken a round of telephone diplomacy, urging a wide range of leaders to use their influence to end the crisis.

"I have spoken to several capitals, appealing [to] bring it down, and I have also appealed to anyone with influence, whether secular or religious, to do whatever they can to calm the situation down," Annan said. "I think generally it is calming down, and it has calmed down except for one or two locations. And I hope that even in those cases, the leaders will work with the community to calm it down."

A group of ambassadors from the Organization of the Islamic Conference met Annan this week to discuss the Doha meeting. They proposed including language on religious defamation in a UN resolution that will create a new human rights council. The proposed amendment says that "defamation of religions and prophets is inconsistent with the right to freedom of expression."

But the United States and several European countries have voiced opposition, saying such text should not be included.
Clash Of Cultures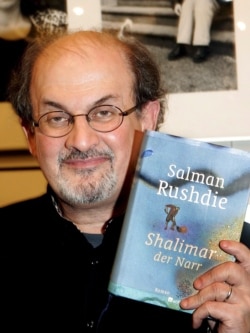 Indian-born writer Salman Rushdie (epa file photo)


The furor raised by the publication in Europe of cartoons believed by many Muslims to be insulting to Islam is far from being the first time that Western notions of freedom of expression have clashed with Islamic sensibilities. Below are a few of the major incidents in this long-running tension.
2005: London's Tate Britain museum removes from exhibition the "God Is Great #2" sculpture by John Latham for fear of offending Muslims, citing the "sensitive climate" after 7 July suicide bombings in London. The sculpture piece consists of three sacred religious texts -- the Koran, the Bible, and the Talmud -- embedded in a sheet of glass.
2004: Dutch filmmaker Theo van Gogh is murdered after release of his film "Submission" about violence against women in Islamic societies. Ayaan Hirsi Ali, a Somali-born member of Dutch parliament who wrote script, plans another film about Islam's attitude to gays. She has also received death threats.
2002: Nigerian journalist Isioma Daniel incenses Muslims by writing in "This Day" newspaper that Prophet Muhammad would have approved of the "Miss World" contest and might have wed a beauty queen. Muslim-Christian riots in northern city of Kaduna kill 200. Daniel flees Nigeria after a fatwa urges Muslims to kill her.
1995: An Egyptian court brands academic Nasr Hamed Abu Zaid an apostate because of his writings on Islam and annuls his marriage on grounds that a Muslim may not be married to an apostate. Abu Zaid and his wife move to the Netherlands.
1994: Taslima Nasreen flees Bangladesh for Sweden after court charges her with "maliciously hurting Muslim religious sentiments." Some Muslims demand she be killed for her book "Lajja" (Shame), banned for blasphemy and suggesting free sex.
1989: Iranian leader Ayatollah Ruhollah Khomeini calls on all Muslims to kill British author Salman Rushdie for blasphemy against Islam in his book "The Satanic Verses."
(compiled by RFE/RL)
See also:
Dutch Immigration -- The Death Of Multiculturalism
Report Says No Anti-Muslim Backlash In Europe
Vienna Conference Ends With Appeals For Understanding, Tolerance
A thematic webpage devoted to issues of religious tolerance in RFE/RL's broadcast region and around the globe.