PRAGUE, 23 February 2006 (RFE/RL) -- The visits by Russian Atomic Energy Agency chief Kiriyenko and Chinese Deputy Foreign Minister Guozeng to Tehran come just over a week before a key International Atomic Energy Agency (IAEA) meeting on 6 March.
During the meeting, steps on how to deal with Iran's nuclear issue -- including a referral of the case to the UN Security Council -- will be discussed.
Diplomacy By Beijing And Moscow
Hermidas Bavand, a professor of international law in Tehran, tells RFE/RL that Moscow and Beijing have joined diplomatic efforts to resolve the issue ahead of the crucial IAEA meeting.
"Without any doubt there is a connection [between the two visits] because the priority now is Iran's nuclear issue and the time that it needs for negotiations," he said.
Russia and China, veto-holding permanent members of the UN Security Council with economic ties to Iran, were reluctant to support the IAEA decision to report Tehran to the UN Security Council. It is the second such high-ranking meeting between Tehran and Beijing, as Iran's top nuclear negotiator, Ali Larijani, went to China on 26 January for talks on its nuclear program.
Beijing and Moscow have asked Iran to return to a suspension of uranium enrichment while at the same time calling for a diplomatic settlement of the issue.
The Kremlin's Proposal
Russia has been actively trying to defuse the crisis by proposing to enrich Iranian uranium in Russia.
The plan was discussed during two days of talks earlier this week in Moscow. Further talks are due to take place during Kiriyenko's visit to Tehran.
"Russia is proposing that Iran can continue activities in Arak and Isfahan (the location of its uranium-conversion facility) but the activities at Natanz, which are related to uranium enrichment should be done by Russia."
Iran has been both hot and cold on the offer -- leading to speculation that it is not genuinely interested.
Iranian Foreign Minister Manuchehr Mottaki says today that Iran is seriously considering the Russian offer, but stressed that several issues still need to be discussed, including timing and location.
Ready To Compromise?
"Based on recognizing the Iranians' right to have their nuclear technology for peaceful purposes; based on the current situation in which we have resumed our research and development activities in Iran for large-scale enrichment in Iran; we are ready to compromise," Mottaki said.
China has also expressed support for the offer and said it hopes talks between Moscow and Tehran will be successful. Professor Bavand says the Russian proposal is likely to be on the agenda of talks in Tehran between Chinese and Iranian officials. "China had signaled before that it is inclined to join a possible consortium in Russia for enriching Iran's uranium," he said.
The Chinese Foreign Ministry has said that Deputy Foreign Minister Guozeng is due to talk with Iranian officials on how to resolve the nuclear issue "properly through dialogue and consultation."
It is expected that a an agreement to develop Iran's Yadavaran oil and gas field will be also discussed during the talks.
Chinese Foreign Minister Li Zhaoxing appealed on 22 February to the international community to be patient and flexible and to show flexibility for a resumption of nuclear negotiations between Europe and Iran.
Zhaoxing also said that "there is still room to solve Iran's nuclear issue within the framework of the International Atomic Energy Agency."
'Zero-Enrichment Solution'
Bavand says that an agreement on the Russian proposal is still possible provided some compromises are made.
"Iran has insisted on its position that the enrichment process should be done in Iran," Bavand said. "Russia is proposing that Iran can continue activities in Arak and Isfahan (the location of its uranium-conversion facility) but the activities at Natanz, which are related to uranium enrichment should be done by Russia. In order to reach a relatively acceptable agreement, both sides need -- to a certain limit -- adjust their original positions. Even though some evaluate the talks with doubt, I think with some goodwill they can reach some understanding before the issue is discussed during the IAEA board meeting on March 6."
On 22 February, Russian President Vladimir Putin said in Baku, Azerbaijan, that there is still hope that Iran will accept Moscow's offer.
The Brussels-based International Crisis Group (ICG) suggests in a report published today, that a preferred option out of the crisis is the "zero-enrichment solution," which builds on the Russian proposal. This solution would offer Tehran additional guarantees from the United States regarding financial incentives and a less threatening posture by Washington. There would also be a guaranteed offshore nuclear fuel supply available to Iran in exchange for it not enriching uranium on its soil.
The alternative, according to ICG, is the delayed-limited enrichment plan and the international community would accept Iran's right to enrich domestically.
Russia's Nuclear Power Chief
Russia's Nuclear Power Chief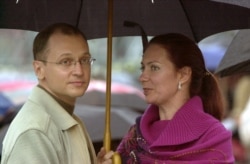 Sergei Kiriyenko and his wife, Maria, at a rock concert in 2004 (TASS)


A RISING STAR: In August 1998, Russia spiraled into financial meltdown. The subsequent ruble devaluation was a severe blow to the country's financial system and millions of people lost their savings. At the helm was Prime Minister SERGEI KIRIYENKO, who, along with his government, was subsequently forced to resign by then President Boris Yeltsin. Since that career low, Kiriyenko's fortunes have changed. Currently in charge of Rosatom, Russia's Federal Atomic Energy Agency, he is thought by many to be a politician on the rise.... (more)
See also:
Moscow Seeks To Reignite Nuclear Power Industry
Putin's Former Colleagues Make Up Today's Energy 'Team'