PRAGUE, 23 February 2006 (RFE/RL) -- Addressing reporters on 22 February during a visit to Azerbaijan, Russian President Vladimir Putin cautioned the political leaders of neighboring Georgia against seeking enemies abroad.
"I feel very sorry, very sorry, for the Georgians. This beautiful people to whom we feel close are currently in a difficult situation," Putin said. "Georgia is experiencing great economic difficulties and if some people deem it possible to solve this kind of problems only by diverting people's attention into looking for external enemies I think they're on the wrong track."
Although Putin mentioned President Mikheil Saakashvili among those political leaders "who want to develop ties with Russia," his message was clearly addressed to his Georgian counterpart.
Saakashvili does not mince words either when it comes to criticizing Moscow. Addressing a National Security Council meeting on 21 February, Saakashvili accused Russian air forces of violating Georgia's national air space and lambasted Moscow for allegedly seeking to provoke its small southern neighbor: "All developments that have been taking place recently have only one purpose -- to play on our nerves and, perhaps, to scare us and intimidate us. But we're no longer the country we were two or three years ago. We're not afraid of anything and we won't let anything upset us."
Deteriorating Relations
The tone of these two statements is symptomatic. Although economic ties between the two countries have been flourishing since Saakashvili came to power in early 2004 -- Russia is Georgia's main economic partner and leading foreign investor -- political relations have been steadily deteriorating since August 2004. It was then that Georgia triggered a series of deadly armed clashes in South Ossetia by sending troops into the separatist republic in a purported anticriminal operation.
So far, only Lithuania, which has friendly ties with Saakashvili's government, has openly backed Georgia's attempts at securing the withdrawal of Russian troops.
Since then Russia and Georgia have been squabbling over the tiny breakaway region, blaming each other for destabilizing the situation.
Georgian lawmakers on 15 February approved a nonbinding resolution calling upon the government to secure the withdrawal of all Russian peacekeepers deployed in the conflict zone on allegations that they are siding with the separatist forces and therefore need to be replaced with an international and "neutral" force. The parliament also urged the government to review the 1992 Russian-Georgian peace agreement that put an end to the war between Tbilisi and Tskhinvali.
Moscow has protested the move, warning that any modification to the current peace arrangement could have unpredictable consequences.
Russia this week torpedoed a planned meeting of the Joint Control Commission in charge of monitoring the 1992 agreement that was due to take place in Vienna. Instead, it held a counter-session in Moscow that neither Georgia, nor the Organization for Security and Cooperation in Europe (OSCE) attended.
Rising tensions over South Ossetia made the headlines of the Russian press this week, with mainstream newspapers cautioning against Saakashvili's alleged plans to recapture South Ossetia by force.
Foreign Reactions
The international community has also expressed its concerns.
The OSCE chairman in office, Belgium's Foreign Minister Karel De Gucht, on 16 February called upon Saakashvili's government to give a "measured response" to the parliament resolution adopted the day before. The European Union on 21 February sent Georgia a similar message, urging all parties involved to "refrain from unilateral action and find a constructive approach" to the dispute.


So far, only Lithuania, which has friendly ties with Saakashvili's government, has openly backed Georgia's attempts at securing the withdrawal of Russian troops.
In a statement issued on 22 February, Lithuania's Foreign Ministry described Georgia's attempts at internationalizing the South Ossetian dispute as "reasonable and valid." The ministry also called upon Russia "to stop unfriendly actions against [its] neighbor and start a constructive dialogue with Georgia."
Among those "unfriendly actions" listed by Lithuania is the decision this week of the Russian Embassy in Tbilisi to stop issuing entry visas to Georgian nationals for an indefinite period of time. Embassy spokesman Mikhail Svirin on 22 February said the decision had been made in retaliation for Georgia imposing travel restrictions on troops manning the two former Soviet military bases Russian maintains in the country and that it has promised to vacate by the end of 2008.
"The Russian Embassy in Georgia states that, starting from 23 February of this year, its consular section will stop issuing visas for Georgian citizens, except when their case presents a humanitarian character," Svirin said. "This forced step was prompted by the fact that, despite the existing agreement on the withdrawal of Russian bases and other military facilities from Georgia that also regulate the rotation of Russian servicemen, the Georgian side has been in the course of the past year artificially complicating the obtaining of entry visas for Russian soldiers doing their military service in Georgia."
Georgia has detained several Russian troops in the past few months on accusations of violating travel regulations and recently announced plans to introduce visa requirements for Moscow's peacekeepers stationed in South Ossetia.
Citing this context, news that the Russian Foreign Ministry had asked Georgian Prime Minister Zurab Noghaideli to postpone a planned working visit to Moscow that was due to start on 26 February came as no surprise. The decision was conveyed to Noghaideli on 21 February by Vladimir Chkhikvishvili, Russia's envoy to Georgia:
"I officially informed the prime minister that the Russian side had suggested he put off his visit. The visit is not cancelled, it is just postponed. We consider that, given the present tense situation, we should observe a pause [in relations]," Chkhikvishvili said.
The Georgian Foreign Minister has expressed its regret over the Russian decision, saying in a statement that the present situation makes bilateral contacts and dialogue opportunities "more necessary than ever."
Also, the president of the Parliamentary Assembly of the Council of Europe (PACE), Rene van der Linden, told RFE/RL he regretted "very much" the escalating tensions between Russia and Georgia, which are both members of the organization. He also said he disapproved of Russia's decision to stop issuing visas for Georgian citizens and postpone Noghaideli's visit.
South Ossetia Cease-Fire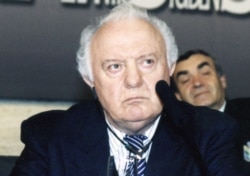 Former Georgian President Eduard Shevardnadze (RFE/RL)

'NO OTHER WAY OUT': Georgia's parliament on February 15 called upon the government to review the 1992 agreement that put an end to the war with South Ossetia and secure the withdrawal of all Russian peacekeepers stationed in the separatist republic. Officials in Tbilisi have long accused the Russian soldiers of siding with the separatist forces and posing a threat to Georgia's national security. Russia has protested the Georgian vote, arguing that Tbilisi has no right unilaterally to amend the 1992 peace agreement. Georgia, in turn, says it has the right to do so.
RFE/RL's Georgian Service correspondent Nona Mchedlishvili asked former President EDUARD SHEVARDNADZE, who signed the agreement with his then Russian counterpart, Boris Yeltsin, to comment on the dispute....(more)
See also:
Tbilisi Seeks EU Support As Tensions Rise In South Ossetia