If confirmed, it would be the largest outbreak of bird flu among domestic poultry in Europe.
Bird flu is continuing to spread among wild-bird populations in Europe, with Slovakia becoming the most recent country to confirm the deadly H5N1 strain on its territory.
Government officials have expressed concern over the possible spread of bird flu to poultry stocks, but EU Health Commissioner Markos Kyprianou says the EU is prepared to protect domestic animals.
"We have in place a [system] of preventive measures like keeping poultry and other farm birds indoors at risk areas," he said. "So what could happen now, given the different species that will be coming from the south, maybe other areas will be added to the list of risk areas, so more areas will be covered by these measures."
EU nations are set to hold emergency talks tomorrow on the spreading virus.
Austrian Health Minister Maria Rauch-Kallat said the meeting would try to calm fears about the possible spread of bird flu from bird populations to humans.
The H5N1 strain has proved fatal to human in some cases, but transmission from birds to humans remains relatively rare.
(AFP, AP, Reuters)


Affected Areas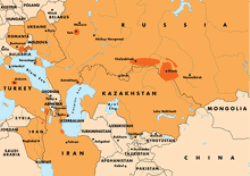 Click on the map for a closer view of the areas within RFE/RL's broadcast region where cases of diseased fowl have been confirmed. Last updated on February 20.


BIRD FLU, or avian influenza, continues to menace scattered areas from East Asia, where the disease first appeared, to Southeastern and Eastern Europe and beyond. Authorities around the world are bracing themselves -- and, more importantly, planning and taking measures to fight the disease wherever it appears.
Stories Of Particular Interest:
Bird-Flu Expert Discusses Issue Of Migratory Birds
Bird Flu: As European Worries Grow, Some See Benefits In Alarm