The assessment was made by the director of the animal production and health division of the FAO, Samuel Jutzi, who held a news conference in Rome today.
"We need to be aware that there is a true risk for Europe. The wild birds are starting to migrate north, and if indeed the virus is entrenched, as it seems to be in Africa, then there is a real risk for this to come to Europe and threaten the poultry industry in Europe," he said.
Jutzi said the virus seems to be circulating widely in Nigeria, and there is a risk that the virus will reach Europe in the spring when birds migrate north.
Health authorities in Austria said today the virus was already found in two dead swans, the country's first confirmed cases of the deadly H5N1 strain.
In Germany, preliminary results have shown that two dead swans tested positive for H5N1 on the Baltic Sea island of Ruegen.
The H5N1 strain has proved fatal in humans in close contact with infected birds.
In the past few days, the H5N1 strain has been confirmed among wild birds in Greece, Italy, and Bulgaria. Russia, Romania, and Turkey have already announced the presence of H5N1 on their territories. Slovenia is awaiting word on whether a wild swan there died of the strain.
(compiled from agency reports)

Interview With UN FAO's Erwin Northoff
Interview With UN FAO's Erwin Northoff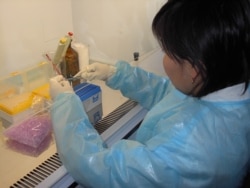 An expert at the National Virology Laboratory of the Kyrgyz Health Ministry (courtesy photo)
GETTING READY: Many have expressed concern about the ability of Central Asian countries to come to grips with a possible bird-flu outbreak. RFE/RL Turkmen Service correspondent Muhammad Tahir spoke with Erwin Northoff, news coordinator for the UN's Food and Agriculture Organization (FAO), about the issue. ....(more)