PRAGUE, 13 February 2006 (RFE/RL) -- Scientists' worst fears are being realized as bird flu continues to spread in Europe and gains a new foothold in Africa.
On 10 February, Italian Health Minister Francesco Storace told a news conference in Rome that swans in several southern Italian regions had died of the H5N1 strain of bird flu, which has proven potentially dangerous to humans.
"The news is that, even if there are continuous changes regarding the number of the dead animals, we were informed that about 17 dead swans were found in three Italian regions," Storace said. "The regions are Puglia, Calabria, and Sicily, where the disease is more diffused."
Greece's Agriculture Ministry also confirmed swan deaths in the north of the country from H5N1, meaning the virus has now breached the EU's internal borders. In recent weeks, there have been outbreaks in Turkey, with several human deaths, as well as bird deaths in Azerbaijan and Bulgaria.
Spring Migration Major Concern
The fact that swans are dying in Europe indicates a new wave of bird flu, carried by migratory fowl such as ducks, could be about to hit the continent, with the coming of spring. "It's definitely of concern," explained Albert Osterhaus, a virologist at the Erasmus Medical Center in Rotterdam.
"If we see what is happening in Europe at this moment, I think we have to be worried." Albert Osterhaus, virologist at Erasmus Medical Center, Rotterdam.
"If we see what is happening in Europe at this moment, I think we have to be worried," Osterhaus added. "We see dead swans and we know that swans are highly susceptible [to H5N1]. And they share their ponds, the places where they swim, with other birds as well that are less susceptible, for instance ducks. And they might have actually infected the swans, so I think we have to be prepared in Europe, especially since the bird migration is about to start."
That migration will be in full force within a month, when hundreds of millions of birds return from their wintering grounds in Africa to Europe and parts of Asia.
Scientists have long worried that Africa could serve as a giant incubator for H5N1 over the winter months, with diseased migratory birds infecting each other as well as domestic fowl. And there are indications this is just what has happened.
African Incubation
In Nigeria, officials have confirmed outbreaks of the H5N1 strain on several farms. Two children have become ill and are being tested with suspected bird flu. Tens of thousands of birds have already been slaughtered.
But by all accounts, African authorities are poorly prepared to monitor or contain the outbreak. The Nigeria case could be "just the tip of the iceberg," according to John Oxford, professor of virology at Queen Mary College in London. And this could threaten the rest of the world.
"I think Africa is a very unfortunate circumstance and an unfortunate development here because however you view it, most of those countries are not highly organized -- it's not their fault particularly, but they're not," Oxford told RFE/RL. "And therefore, there's an enhanced possibility of the virus jumping more from birds to humans. And the more it does that -- the more humans get infected -- the more chances there are of this rare, rare, rare mutation happening and then the virus taking off from human to human."
If that happens, a pandemic that could kill millions of people would have a chance of breaking out.
As Europeans ponder a potential crisis coming from Africa, the Erasmus Medical Center's Osterhaus said decisive steps must be taken at home before spring hits.
"The first to thing to do is to ensure that wild birds cannot have contact with our domestic poultry. I think that's the most important thing. We in the Netherlands, already in September last year, brought virtually all free-range poultry indoors. I think that's an important measure. Several countries are considering that now, with the coming bird migration, and I think that's an important thing. Vaccination [of fowl] is another thing. That's still being debated in the EU -- whether we could use it as a preventive measure," Osterhaus said. "That has not been decided yet."
EU officials have begun meeting in Brussels today to address the issue.
Affected Areas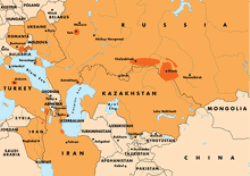 Click on the map for a closer view of the areas within RFE/RL's broadcast region where cases of diseased fowl have been confirmed. Last updated on February 20.


BIRD FLU, or avian influenza, continues to menace scattered areas from East Asia, where the disease first appeared, to Southeastern and Eastern Europe and beyond. Authorities around the world are bracing themselves -- and, more importantly, planning and taking measures to fight the disease wherever it appears.
Stories Of Particular Interest:
Bird-Flu Expert Discusses Issue Of Migratory Birds
Bird Flu: As European Worries Grow, Some See Benefits In Alarm