The Kurdistan Regional Government last week issued an appeal to residents in surrounding districts to cooperate with local teams of the Health, Agriculture, and Interior ministries to cull all birds in the area. The regional government said it would send special teams to collect the birds, RFE/RL's Radio Free Iraq (RFI) reported.
'Media Calming'
Kurdish health officials were also reportedly coordinating with Iraqi Health Minister Abd al-Muttalib Muhammad Ali Salih to address the situation. "We have been provided [by the WHO] 50 doses of medicine, all of them remaining now in Kurdistan Region," Ali told reporters at a 1 February press briefing in Irbil, RFI reported.
Meanwhile, London-based "Al-Hayat" on 2 February cited Health Ministry sources as saying that claims by officials that there are enough medicines and laboratories to deal with bird flu are "media calming" and, in reality, the country will not be able to deal with a widespread outbreak.
Informational Campaigns
In areas south of Kurdistan, the Health Ministry has disseminated informational posters and pamphlets to the governorates so that awareness campaigns can be undertaken at a local level. However, it does not appear that the ministry has made much use of national television, radio, or newspapers to get the word out. This raises questions about the spread of information across governorates -- particularly in outlying areas and areas affected by the insurgency, where information may be harder to come by.
Rumors about the disease have already begun to spread, and in some cases, it appears that inaccurate information is making its way to the airwaves. A television station in Karbala claimed that people in the south-central governorate had contracted bird flu, RFI reported on 3 February. Bashir Jiyad Husayn al-Mukarram, Emergency Center head at Karbala Governorate's Health Care Directorate, denied the rumor in a 2 February interview with RFI. Al-Mukarram then advised people to cook poultry to 56 degrees Celsius, which would kill off any potential bird-flu virus; the WHO recommends cooking birds to 70 degrees Celsius.
Bad Information
Another "expert" told the Al-Iraqiyah state television channel that citizens raising poultry in cities such as Baghdad should immediately slaughter their birds "in a safe and isolated place." The advice contradicts advice given in Kurdistan, where officials have advised citizens not to slaughter their birds, but rather to make birds available to special teams, which would collect and slaughter the birds safely. Kurds watching Al-Iraqiyah television face potential health hazards by following such advice.
There are also unconfirmed reports that another avian virus, identified as Newcastle disease, is rapidly spreading through Kurdistan. Al-Sulaymaniyah daily "Kurdistani Nuwe" reported on 1 February that thousands of birds have died in Kurdistan in recent days from Newcastle disease, a bird virus unrelated to the H5N1 strain of bird flu.
The newspaper said 7,000 chickens died at a farm outside Irbil on 31 January. The farm owner said he was informed by "relevant authorities" that the cause of death was Newcastle disease, while a veterinary expert told the daily that the actual cause of death could not be determined without further testing.
The newspaper also reported that 18 chickens were found dead in the village of Dushiwan near Irbil, while villagers living close to Qandil Mountain reported finding many dead partridges. Some 40 chickens were found dead in the village of Wali near Kifri on 31 January -- all suspected cases of Newcastle disease, the newspaper reported.
Some Successful Moves
Efforts are being made at the local level, however. In Diyala Governorate, which borders the Kurdistan region, Ba'qubah Veterinary Clinic Director Hashim Ibrahim Kazim al-Zubaydi told RFI on 1 February that the local administration has closed down all poultry and pet-bird markets in the governorate and has organized veterinary teams to inspect all poultry farms. The governorate has also undertaken an educational campaign to warn local residents of the danger of bird flu and has banned the entry of poultry and pet birds into the governorate.
Officials in Al-Basrah organized an open workshop on bird flu on 2 February where contagious disease experts said the disease has reached the fourth stage of concern, which they labeled "dangerous," RFI reported. "Already two months ago we launched a media campaign on bird flu. Our area neighbors the Marshes, with high numbers of migratory birds, and those may transfer the disease," said Qusay Abd al-Latif al-Idani, head of the Health Care Directorate's Education Department in the governorate.
Al-Basrah Governorate Council member Wasib al-Amud said the import of all birds into the governorate has been banned since December. In an apparent effort to elicit greater cooperation from citizens, the Council of Ministers and the Agriculture Ministry have pledged to compensate poultry farms should they be required to cull their stocks, said Karim al-Imara, head of the Operations Center for Combating Bird Flu in Al-Basrah.
Already it appears that the insurgency could hamper efforts to curb the spread of the virus. The WHO said in a 2 February press release that although it has dispatched a team of epidemiologists and experts on animal disease to Iraqi Kurdistan, the team is not expected to arrive until next week due to the security situation. As the world has already seen from the Asian cases of bird flu, time is of the essence when combating the spread of the virus.
Affected Areas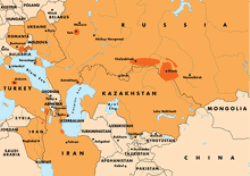 Click on the map for a closer view of the areas within RFE/RL's broadcast region where cases of diseased fowl have been confirmed. Last updated on February 20.


BIRD FLU, or avian influenza, continues to menace scattered areas from East Asia, where the disease first appeared, to Southeastern and Eastern Europe and beyond. Authorities around the world are bracing themselves -- and, more importantly, planning and taking measures to fight the disease wherever it appears.
Stories Of Particular Interest:
Bird-Flu Expert Discusses Issue Of Migratory Birds
Bird Flu: As European Worries Grow, Some See Benefits In Alarm