The girl is the first confirmed case of the disease in the Middle East.
Tests are under way to determine whether the girl's uncle, who died 10 days after she did, also had the virus.
RFE/RL's Radio Free Iraq (RFI) reports that one local man is now being treated for suspected bird flu.
The Kurdistan Regional Government has issued an appeal to residents in surrounding districts to cooperate with local teams of the Health, Agriculture, and Interior ministries to cull all birds in the area. The regional government will be sending in special teams to collect the birds, RFI reported.
Iraqi Health Minister Abd al-Muttalib Muhammad Ali is meeting with his Kurdish counterpart Muhammad Khoshnaw and Kurdish Agriculture Minister Shamal Abd al-Ata to discuss how to proceed.
Announcing the medical findings, Health Minister Ali asked the World Health Organization (WHO) for help. The WHO is putting together a crisis team to conduct tests in the region as well as on hospital patients exhibiting bird-flu symptoms.
The village where the infection occurred is close to the border with Turkey, which has suffered four deaths from 21 confirmed cases of bird flu.
Affected Areas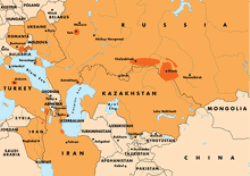 Click on the map for a closer view of the areas within RFE/RL's broadcast region where cases of diseased fowl have been confirmed. Last updated on February 20.


BIRD FLU, or avian influenza, continues to menace scattered areas from East Asia, where the disease first appeared, to Southeastern and Eastern Europe and beyond. Authorities around the world are bracing themselves -- and, more importantly, planning and taking measures to fight the disease wherever it appears.
Stories Of Particular Interest:
Bird-Flu Expert Discusses Issue Of Migratory Birds
Bird Flu: As European Worries Grow, Some See Benefits In Alarm