Afghanistan Warned On Possible Bird-Flu Outbreak
A bird market in Kabul (file photo) (AFP) 23 January 2006 -- The UN's Food and Agricultural Organization (FAO) has warned that Afghanistan faces a risk from bird flu.
The FAO representative in Kabul said the country lies on several bird migration paths and that there is a risk that an infected bird could transmit the virus to local poultry stocks.
Bird flu is transmitted easily among birds and can also occasionally infect humans in close contact with sick birds. Around the world more than 80 people have died from bird flu.
(AFP)
Interview With UN FAO's Erwin Northoff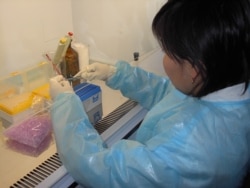 An expert at the National Virology Laboratory of the Kyrgyz Health Ministry (courtesy photo)
GETTING READY: Many have expressed concern about the ability of Central Asian countries to come to grips with a possible bird-flu outbreak. RFE/RL Turkmen Service correspondent Muhammad Tahir spoke with Erwin Northoff, news coordinator for the UN's Food and Agriculture Organization (FAO), about the issue. ....(more)