The results have reportedly been confirmed by international laboratories.
Tests are now being conducted to ascertain whether the birds had the H5N1 strain that is sometimes lethal for humans.
This is the first official incidence of bird flu in Iran. Iranian authorities said the infections came to light when they took precautions against bird flu following the discovery of the disease in areas of Turkey bordering Iran.
(ISNA, Reuters, dpa)
Interview With UN FAO's Erwin Northoff
Interview With UN FAO's Erwin Northoff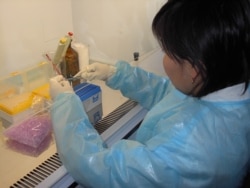 An expert at the National Virology Laboratory of the Kyrgyz Health Ministry (courtesy photo)
GETTING READY: Many have expressed concern about the ability of Central Asian countries to come to grips with a possible bird-flu outbreak. RFE/RL Turkmen Service correspondent Muhammad Tahir spoke with Erwin Northoff, news coordinator for the UN's Food and Agriculture Organization (FAO), about the issue. ....(more)