Earlier today, the Health Ministry in Baku confirmed the presence of the H5N1 strain in the birds, which came from the country's Caspian Sea coast.
But Dr. Ian Brown of the Veterinary Laboratories Agency in London today told RFE/RL that only the H5 virus has been detected so far in the birds. He says his agency will deliver a final report on the matter to Azerbaijan's chief veterinary officer later today.
Brown would not reveal whether testing shows the virus is the lethal or nonlethal strain of the H5 virus.


Interview With UN FAO's Erwin Northoff
Interview With UN FAO's Erwin Northoff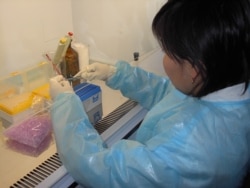 An expert at the National Virology Laboratory of the Kyrgyz Health Ministry (courtesy photo)
GETTING READY: Many have expressed concern about the ability of Central Asian countries to come to grips with a possible bird-flu outbreak. RFE/RL Turkmen Service correspondent Muhammad Tahir spoke with Erwin Northoff, news coordinator for the UN's Food and Agriculture Organization (FAO), about the issue. ....(more)