Ismail Hasanov, the head of the state veterinary office, made the confirmation in an interview with RFE/RL's Azerbaijani Service. He said test results are still pending for domestic birds.
Hasanov said 54 samples were sent to London from both household poultry and migratory birds.
"There are foreign experts here in Baku, including those from the Food and Agriculture Organization and the U.S.," State Veterinary Office Deputy Director Emin Sahbazov told RFE/RL today. "More experts will arrive in Baku today. We will all sit together to review how to proceed. This is obviously an issue for the whole [Azerbaijani] government and the government will take all necessary actions."
Azerbaijan shares a short border with eastern Turkey, where four children died earlier this year after becoming infected with bird flu.
The first case of deaths among birds was registered in the autumn in the Nakhichevan region, bordering Turkey.
Bird flu has killed more than 80 people since emerging from Southeast Asia more than two years ago. World health officials fear a possible global pandemic if the virus mutates into a form that can pass easily among humans.
(with agency reports)
Affected Areas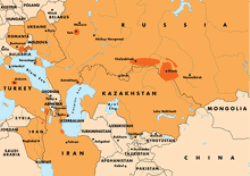 Click on the map for a closer view of the areas within RFE/RL's broadcast region where cases of diseased fowl have been confirmed. Last updated on February 20.


BIRD FLU, or avian influenza, continues to menace scattered areas from East Asia, where the disease first appeared, to Southeastern and Eastern Europe and beyond. Authorities around the world are bracing themselves -- and, more importantly, planning and taking measures to fight the disease wherever it appears.
Stories Of Particular Interest:
Bird-Flu Expert Discusses Issue Of Migratory Birds
Bird Flu: As European Worries Grow, Some See Benefits In Alarm