Authorities in Sofia said samples are being sent to Britain to test whether it is the bird was infected with the H5N1 strain that can kill people.
Buglaria is located between Romania and Turkey, both of which have been hit by outbreaks of the deadly H5N1 strain of the virus.
Bulgarian Agriculture Minister Nihat Kabil told a news conference today that he has put his veterinary offices on high alert, but the discovery of one infected swan did not mean there was a danger of wider outbreaks.
(Reuters, dpa)
Interview With UN FAO's Erwin Northoff
Interview With UN FAO's Erwin Northoff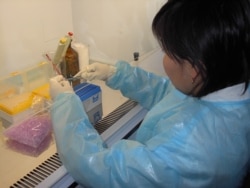 An expert at the National Virology Laboratory of the Kyrgyz Health Ministry (courtesy photo)
GETTING READY: Many have expressed concern about the ability of Central Asian countries to come to grips with a possible bird-flu outbreak. RFE/RL Turkmen Service correspondent Muhammad Tahir spoke with Erwin Northoff, news coordinator for the UN's Food and Agriculture Organization (FAO), about the issue. ....(more)