Officials say five birds found dead in Sevastopol were infected with the illness.
Ukrainian health authorities are urging the public to exercise caution to prevent the sickness from spreading.
Meanwhile, in Beijing today, donor countries and organizations pledged $1.9 billion to fight the spread of the bird flu virus. That was above the targeted $1.2 billion -- though most of the pledges were in the form of loans.
Bird flu has been blamed for the deaths of some 75 people in East Asia since 2003. Four children died of the illness this month in Turkey -- though none of the deaths were believed caused by human to human transmission.
(AP, Reuters)
Affected Areas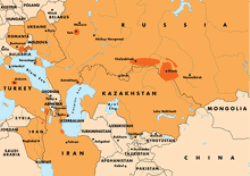 Click on the map for a closer view of the areas within RFE/RL's broadcast region where cases of diseased fowl have been confirmed. Last updated on February 20.


BIRD FLU, or avian influenza, continues to menace scattered areas from East Asia, where the disease first appeared, to Southeastern and Eastern Europe and beyond. Authorities around the world are bracing themselves -- and, more importantly, planning and taking measures to fight the disease wherever it appears.
Stories Of Particular Interest:
Bird-Flu Expert Discusses Issue Of Migratory Birds
Bird Flu: As European Worries Grow, Some See Benefits In Alarm