Some 4,000 birds died on 12 February alone at the poultry farm near the capital, Makhachkala.
Samples from the dead birds have been sent for laboratory analysis in Moscow.
Daghestan officials have dismissed concerns of a possible outbreak of bird flu, saying no cases of bird flu have been registered in the republic.
Officials said the Makhachkalinskaya poultry farm is located near another poultry farm where earlier this month some 300,000 chicken died of Newcastle disease, a highly contagious viral disease that strikes poultry.
(Interfax, AFP)
Affected Areas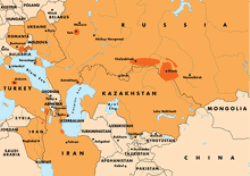 Click on the map for a closer view of the areas within RFE/RL's broadcast region where cases of diseased fowl have been confirmed. Last updated on February 20.


BIRD FLU, or avian influenza, continues to menace scattered areas from East Asia, where the disease first appeared, to Southeastern and Eastern Europe and beyond. Authorities around the world are bracing themselves -- and, more importantly, planning and taking measures to fight the disease wherever it appears.
Stories Of Particular Interest:
Bird-Flu Expert Discusses Issue Of Migratory Birds
Bird Flu: As European Worries Grow, Some See Benefits In Alarm