Italian Health Minister Francesco Storace said today the deadly H5N1
strain of bird flu has been detected in swans, the first such cases
reported in Italy.
Storace said the virus was found in swans in three Italian regions: Puglia and Calabria in southern Italy, and the island of Sicily.
He did not give the exact number of the birds who had been infected by the virus. But he said that the "most part" of 17 swans who were found dead were infected by H5N1, which can be dangerous for humans.
Meanwhile, the Agriculture Ministry of another member of the European Union, Greece, also confirmed today that three swans in the north of the country have also died of the H5N1 strain of avian influenza.
Also today, the European Commission said laboratory tests in England confirmed that bird flu found in wild swans in northern Bulgaria, near the Romanian border, last week was also the H5N1 strain.
(AP, AFP)
Affected Areas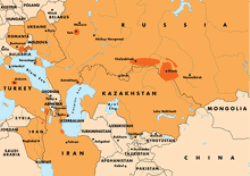 Click on the map for a closer view of the areas within RFE/RL's broadcast region where cases of diseased fowl have been confirmed. Last updated on February 20.


BIRD FLU, or avian influenza, continues to menace scattered areas from East Asia, where the disease first appeared, to Southeastern and Eastern Europe and beyond. Authorities around the world are bracing themselves -- and, more importantly, planning and taking measures to fight the disease wherever it appears.
Stories Of Particular Interest:
Bird-Flu Expert Discusses Issue Of Migratory Birds
Bird Flu: As European Worries Grow, Some See Benefits In Alarm