BRUSSELS, 22 February 2006 (RFE/RL) -- The approval of the French and Dutch request for poultry vaccinations is a sign the EU is worried that measures currently in force may not be enough to prevent the spread of bird flu to domestic birds.
Only last week, a senior European Commission expert said the disadvantages of vaccinating domestic fowl outweighed the advantages. Vaccinations are difficult to perform comprehensively and the main fear is the H5N1 strain could spread undetected.
However, the stakes were upped on the morning of 21 February when Austria reported the EU's first case of H5N1 in a domestic bird. The trend now appears to be to give member states as much latitude as possible.
"The Standing Committee on the Food Chain and Animal Health [made up of member-state experts] has today approved two [European] Commission proposals to allow France and the Netherlands to carry out targeted, preventive vaccination campaigns on poultry under certain strict conditions which are set out in the [now approved] proposals of the commission," European Commission spokesman Philip Tod said on 21 February. "These preventive vaccination programs are being proposed by France and the Netherlands as a precautionary measure against highly pathogenic avian influenza H5N1."
Limited Populations
Tod underlined that the permission to vaccinate only affects very limited bird populations. In France, authorities will vaccinate in three districts an estimated 100,000 ducks and geese that are difficult or impossible to be brought indoors. In the Netherlands, the move will target roughly 5 million barnyard chickens and egg-laying free-range hens.
EU officials point out the figures are infinitesimal compared to the 6 billion domestic birds thought to be living in Europe at this moment. They say vaccination will not be a panacea for the virus, but will provide other EU member states with useful experience for the future. Vaccination is an expensive and time-consuming undertaking, requiring multiple injections of each individual bird.
EU spokesman Tod therefore stressed that the vaccinations in France and the Netherlands will be rigorously monitored. "[The vaccinations] will be subject to rigorous surveillance and control requirements," he said. "These include movement restrictions, strict monitoring of vaccinated flocks to ensure that there is no undetected outbreak of avian influenza and careful record keeping."
Both in France and the Netherlands, a number "sentinel birds" will remain unvaccinated in the targeted flocks. But the sentinel specimens and vaccinated birds will be regularly tested.
Vaccinated birds may only be moved inside the country and not mixed with unvaccinated flocks. There are no restrictions on the marketing of their meat or eggs provided they come from disease-free holdings. Such meat or eggs will not carry any special labeling.
EU officials say they fear no trade effects as a result of the vaccinations, as major poultry exporters China and Vietnam also use extensive vaccinations. Russia also has plans to do so.
Affected Areas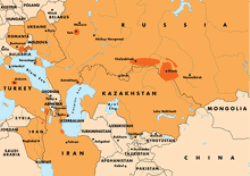 Click on the map for a closer view of the areas within RFE/RL's broadcast region where cases of diseased fowl have been confirmed. Last updated on February 20.


BIRD FLU, or avian influenza, continues to menace scattered areas from East Asia, where the disease first appeared, to Southeastern and Eastern Europe and beyond. Authorities around the world are bracing themselves -- and, more importantly, planning and taking measures to fight the disease wherever it appears.
Stories Of Particular Interest:
Bird-Flu Expert Discusses Issue Of Migratory Birds
Bird Flu: As European Worries Grow, Some See Benefits In Alarm