PRAGUE, 15 February 2006 (RFE/RL) -- H5N1, the strain of bird flu responsible for the deaths of nearly 100 people since 2003, has begun its march across Europe, with cases confirmed in Slovenia, Italy, and Austria.
Further east, officials in countries bordering the Caspian and Black seas are killing birds suspected of carrying the disease.
Fear is growing in Azerbaijan, where samples from birds found dead along the shore of the Caspian Sea have tested positive for the H5N1 strain that is lethal to birds and humans alike.
Azerbaijan's chief epidemiologist, Ibadulla Agayev, told Reuters the deadly strain of bird flu is present in the country -- but that no humans have been affected. "In our republic we don't have human cases of bird flu," he said. "Among the wild birds -- yes, we have it and the veterinary department is dealing with it."
Azerbaijani health officials have instructed poultry farms to cull their birds. In cities like the capital Baku, chicken meat has become a scarce commodity. Global officials say chicken is safe to eat if properly cooked. But Azeris like Saad Mamedova say they are afraid to eat the meat all the same.
"My family has not been eating chicken for the last 10 days," she said. "I am a doctor, and even before the announcement about it was made on television, I decided to stop eating chicken."
Another Baku resident, Konul Mustafayeva, said the health scare is a problem for her family, who rely on relatively cheap chicken meat for their meals. "I am afraid to eat chicken," she said. "I hope health authorities will solve this problem in the future."
In the Black Sea region, bird flu was detected as early as December, with numerous bird deaths in Ukraine's Crimean Peninsula. No human cases have been recorded in the region, but David Nabarro, the United Nations official tasked with coordinating global bird-flu efforts, said today in Kyiv that officials must be ready for "the possible arrival of human-to-human transmission."
Bird flu has reappeared on Russian territory as well. Officials say some 42,000 chickens have died in recent days at a poultry farm in the southern Republic of Daghestan. Another 4,000 birds died at a poultry farm near the capital Makhachkala.
Health officials in the region originally said the deaths were the result of Newcastle disease, a highly contagious virus that is fatal for all species of birds but that does not affect humans.
But RFE/RL's Russian Service reported that authorities from Russia's state veterinary service now say the deaths were the result of the H5N1 strain of the virus.
Meanwhile, the bird flu has started its march through Western Europe. Germany confirmed it found the H5N1 strain in two wild swans found dead on the island of Ruegen, in the Baltic Sea. Denmark, Norway, and Sweden today ordered domestic poultry to be kept indoors after Germany's announcement.
Austria announced on 14 February that it also detected the virus in dead birds. Last weekend, Italy confirmed the presence of the H5N1 strain of the disease in two dead swans.
More trouble may lie ahead. The director of the animal production and health division of the UN's Food and Agriculture Organization, Samuel Jutzi, told a press conference that Europe faces a "real risk" that bird flu will spread as migrating birds return from Africa over the next few months.
Iran has also announced that bird flu has been discovered in birds found on its part of the Caspian Sea coast. Veterinary officials said a total of 135 dead swans had been found in the northwestern Iranian province of Gilan.
According to the World Health Organization, bird flu has killed at least 91 people since 2003. Though the deaths have been linked to contact with infected poultry, experts fear that the H5N1 virus could mutate into a form that spreads easily among people and spark a pandemic.
(RFE/RL's North Caucasus and Russian services contributed to this story.)
Interview With UN FAO's Erwin Northoff
Interview With UN FAO's Erwin Northoff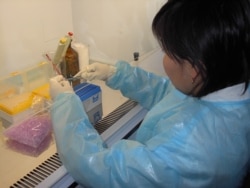 An expert at the National Virology Laboratory of the Kyrgyz Health Ministry (courtesy photo)
GETTING READY: Many have expressed concern about the ability of Central Asian countries to come to grips with a possible bird-flu outbreak. RFE/RL Turkmen Service correspondent Muhammad Tahir spoke with Erwin Northoff, news coordinator for the UN's Food and Agriculture Organization (FAO), about the issue. ....(more)