Nikolai Vlasov, deputy head of the Agriculture Ministry's veterinary control department, said Russian laboratory tests have confirmed that the H5N1 virus was responsible for the deaths of farm birds in the village of Shamkhal.
Media reports say 3,000 birds have died in Shamkhal in the past 24 hours. The Russian Emergency Situations Ministry earlier today attributed the deaths to Newcastle disease, a highly contagious virus that is fatal for all species of birds but that does not affect humans.
Up to 56,000 farm birds have been found dead in Daghestan in the past week.
Authorities in neighboring Azerbaijan earlier this month confirmed the presence of the deadly H5N1 virus on their territory.
(with material from agency reports)
Affected Areas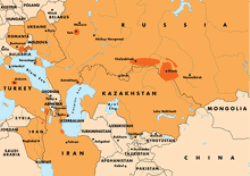 Click on the map for a closer view of the areas within RFE/RL's broadcast region where cases of diseased fowl have been confirmed. Last updated on February 20.


BIRD FLU, or avian influenza, continues to menace scattered areas from East Asia, where the disease first appeared, to Southeastern and Eastern Europe and beyond. Authorities around the world are bracing themselves -- and, more importantly, planning and taking measures to fight the disease wherever it appears.
Stories Of Particular Interest:
Bird-Flu Expert Discusses Issue Of Migratory Birds
Bird Flu: As European Worries Grow, Some See Benefits In Alarm