Government spokesperson Magdi Radi said six cases of the highly pathogenic strain were detected in poultry in the greater Cairo area. One case was found in the southern region of Minya.
Egypt, after Nigeria, is the second African country to report bird flu.
The virus originated in Asia and is now also spreading rapidly across Europe.
Earlier today, Germany confirmed 10 more cases of the H5N1 strain of bird flu on the Baltic island of Ruegen.
France, which is Europe's largest poultry producer, says it is testing a wild duck found in the center of the country for suspected bird flu.
Azerbaijan, at the crossroads of Europe and Asia, reported a new outbreak of H5N1 at a nature reserve in the southeast of the country. Russia has imposed temporary restrictions on poultry imports from Azerbaijan.
(compiled from agency reports)
Interview With UN FAO's Erwin Northoff
Interview With UN FAO's Erwin Northoff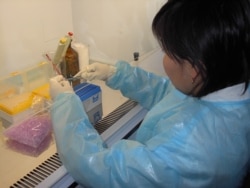 An expert at the National Virology Laboratory of the Kyrgyz Health Ministry (courtesy photo)
GETTING READY: Many have expressed concern about the ability of Central Asian countries to come to grips with a possible bird-flu outbreak. RFE/RL Turkmen Service correspondent Muhammad Tahir spoke with Erwin Northoff, news coordinator for the UN's Food and Agriculture Organization (FAO), about the issue. ....(more)