Hungarian Prime Minister Ferenc Gyurcsany said today that laboratory tests indicate the presence of the deadly H5N1 strain of bird flu in two more dead swans. Last week, Hungarian officials said the H5N1 strain had been found in three dead swans.
Bosnian officials have confirmed that four swans discovered on 17 February were infected with the bird-flu virus, but it wasn't clear if it was the deadly H5N1 strain.
The head of the Sarajevo veterinary laboratory, Abdulah Gagic, said the findings should not cause alarm.
"I want to emphasize that from the expert's point of view there is still no need for panic," he said. "I think that all the measures that are being taken by state and local offices in the field will be sufficient and that the disease will be localized to the area where it was discovered."
Romania's veterinary health agency yesterday confirmed more outbreaks of H5N1 in poultry in two villages. The German tour operator TUI said about 8,000 Scandinavian tourists cancelled holidays to Romanian resorts after news of the bird flu outbreaks was reported.
Millions of birds and around 90 humans have died from the H5N1 strain since it was discovered in Asia about three years ago. Humans can become infected through very close contact with sick birds – though transmissions are relatively rare and officials have urged their citizens not to panic.
(Reuters, AP, AFP)

Affected Areas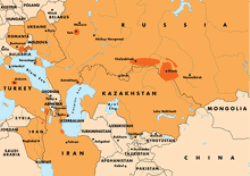 Click on the map for a closer view of the areas within RFE/RL's broadcast region where cases of diseased fowl have been confirmed. Last updated on February 20.


BIRD FLU, or avian influenza, continues to menace scattered areas from East Asia, where the disease first appeared, to Southeastern and Eastern Europe and beyond. Authorities around the world are bracing themselves -- and, more importantly, planning and taking measures to fight the disease wherever it appears.
Stories Of Particular Interest:
Bird-Flu Expert Discusses Issue Of Migratory Birds
Bird Flu: As European Worries Grow, Some See Benefits In Alarm