PRAGUE, 24 February 2006 (RFE/RL) -- The Kazakh government's most recent meeting on the nuclear industry took place on 20 February.
Prime Minister Daniyal Akhmetov, who chaired the meeting, said a project was drafted to develop the nuclear energy industry and he announced a plan to form a working group to discuss nuclear power possibilities for Kazakhstan.
The Country's Best Option?
Officials maintain that as Kazakhstan develops alternative energy sources, nuclear energy is the best option as Kazakhstan is one of the largest uranium producers in the world.
Kazakhstan is well endowed with energy resources, including abundant reserves of coal, oil, and natural gas, which made the republic one of the top energy-producing regions of the Soviet Union. But much of these are exported abroad or already used for domestic consumption.
"All Kazakh lands are misused. Air and water are not clean. People are dying out."
Shynar Zhanibekova, spokeswoman for the state's KazAtomProm company, tells RFE/RL that the major factor in deciding to build nuclear power plants is a lack of other sources of energy. "The first question is whether there is an energy deficit in Kazakhstan," she said. "A nuclear power plant should be constructed only if there is a deficit. If such a deficit exists, undoubtedly, nuclear plants have an advantage since they are the most ecologically clean [sources of energy]."
Energy Deficit?
And it is very plentiful -- Kazakhstan extracted some 4,360 tons of uranium annually last year -- five times more than in 1997. Authorities say the amount could be easily increased to 15,000 tons by 2010 due to large resources and the low cost to mine it.
Kazakh officials also say the country has the benefit of nuclear know-how with nuclear power as it had a plant in Aktau near the Caspian Sea that was closed in 1999.
It is not clear whether the government's current plant envisions reopening the Aktau plant or building a new one on Lake Balkhash near Almaty. The latter seems to be considered more feasible.
Either way, authorities will have to consider a public opinion that remains mostly negative about nuclear power mostly due to the Semipalatinsk nuclear tests.
Health Problems Near Semipalatinsk...
Semipalatinsk has been a persistent wound on the Kazakh environment and the health of its citizens. It was the world's second-largest nuclear military-industrial complex and the site of nearly 500 nuclear test explosions before the Kazakh government closed it in early 1990s.
A 1992 study estimated that 1.6 million people in Semipalatinsk have been affected by radiation from the tests. Many others continue to suffer its ill effects. Surveys, including one by the Semipalatinsk Prenatal Center, show that only 10 percent of pregnant women in areas close to Semipalatinsk are healthy.
Kazakhs also remember very well the 1986 disaster at the Chornobyl nuclear plant in Ukraine, where many Kazakh citizens worked at the time.
Mels Eleusizov chairs the Nature (Tabighat) movement that has been the most active in the area. "We don't want [the nuclear power plants]," he said. "No one needs them. I am sure our officials have no right to harm my children's health. No one but God is in charge of human lives. We have very fresh memories of the Chernobyl tragedy. Our countrymen were there and were harmed. Many of them have already died."
Eleusizov says the construction of nuclear power plants is not efficient as it lasts for many years but that the plant itself can only be used for a certain number of years before it becomes unsafe. "After 20 years of work, a plant will not be safe anymore because the possibility of a radiation leak," he claims.
But officials disagree. KazAtomProm's Zhanibekova says modern technology and improvements in nuclear plant designs rule out any nuclear accidents similar to the one at Chornobyl: "New-generation nuclear power plants do not harm the environment, do not produce carbonic acid and, thus, do not contribute to the 'greenhouse' effect. They are safe compared to the Chernobyl nuclear power plant and others built in the 1980s. [They] are anti-seismic. They also will remain safe even if an aircraft falls on them."
...And Baikonur
Kazakhs are also influenced by the negative effects of the Baikonur Cosmodrome. A woman in Almaty summarizes the opinion of many Kazakh citizens. "Of course, we all are against it," she said. "All Kazakh lands are misused. Air and water are not clean. People are dying out. We have Baikonur. It is enough for Kazakhstan. Do you know how much it rains after only one rocket launch from Baikonur?"
Built 51 years ago, the Baikonur space center remains the world's biggest and the most active space launch center.
Numerous independent studies have said that many of the people who live in and around Baikonur have severe health problems, particularly endocrine and blood disorders. The environment has also been severely damaged. Kazakh officials deny any major problems.
In 1999, Kazakhstan temporarily banned launches at Baikonur after two Russian Proton space rockets exploded over central Kazakhstan, showering the ground with toxic fuel. Later, the profitable cosmodrome was reopened despite public protests.
Baikonur generates some $115 million to Kazakhstan's budget annually. Russia and Kazakhstan recently signed a deal whereby Russia will continue to use Baikonur until 2050.
Russia's Rosaviakosmos space agency, the United States' NASA, and the European Space Agency all launch rockets from the base.
The daily "Izvestiya-Kazakhstan" wrote on 27 December that the country's authorities are trying to change public opinion by emphasizing the technical and financial advantages of nuclear energy and the safety of modern-era nuclear plants.
The commentary came after Kazakh Energy and Mineral Resources Minister Vladimir Shkolnik made yet another statement on the need for the country to develop its nuclear-energy sector.
(RFE/RL's Kazakh Service in Almaty contributed to this report.)
Russia's Nuclear Power Chief
Russia's Nuclear Power Chief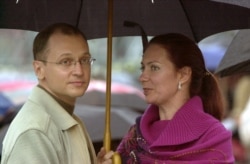 Sergei Kiriyenko and his wife, Maria, at a rock concert in 2004 (TASS)


A RISING STAR: In August 1998, Russia spiraled into financial meltdown. The subsequent ruble devaluation was a severe blow to the country's financial system and millions of people lost their savings. At the helm was Prime Minister SERGEI KIRIYENKO, who, along with his government, was subsequently forced to resign by then President Boris Yeltsin. Since that career low, Kiriyenko's fortunes have changed. Currently in charge of Rosatom, Russia's Federal Atomic Energy Agency, he is thought by many to be a politician on the rise.... (more)
See also:
Moscow Seeks To Reignite Nuclear Power Industry
Putin's Former Colleagues Make Up Today's Energy 'Team'