China Mulls Joint Development Of Foreign Uranium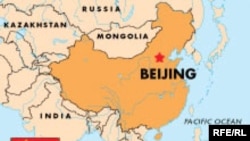 (RFE/RL) 21 February 2006 -- China is studying the possibility of jointly developing uranium reserves abroad to fuel its massive planned expansion of nuclear power over the next 15 years.
A senior official with the China National Nuclear Corp. (CNNC), Shen Wenquan, made the comment today on the sidelines of a conference in Shanghai.
However Shen didn't say which countries might be considered.
CNNC is responsible for China's civilian and military nuclear programs. It already has a 30 percent stake in a unit of Kazakhstan's national nuclear company, KazAtomProm, with rights to develop a uranium deposit in the south of the country.
Kazakhstan, Uzbekistan, and Russia are among the biggest uranium producers in the world.
(AP)