PRAGUE, 27 February 2006 (RFE/RL) -- Iranian Foreign Minister Mottaki, who served as Iran's ambassador to Japan from 1995 to 1999, will meet with Japanese Prime Minister Junichiro Koizumi and Japanese Foreign Minister Taro Aso during his visit.
Aso is quoted by agencies as saying he will press Mottaki to reveal details about Tehran's agreement with Russia to set up a joint uranium-enrichment venture.
Two years ago Japan signed a deal with Iran -- over U.S. objections -- to jointly develop the large Iranian Azadegan oil field.
Seeking Details
The agreement in principle was announced on 26 February by the head of Iran's Atomic Energy Agency, Gholamreza Aqazadeh-Khoi, following talks with his Russian counterpart, Sergei Kiriyenko.
"Regarding this joint venture, we have reached a basic agreement. Talks to complete this package will continue in the coming days in Russia," Aqazadeh-Khoi said.
Details of the deal have not been disclosed.
The Russian proposal originally included a plan to set up a joint venture for enriching Iran's uranium on Russian soil to allay Western concern that the material could be used for a nuclear weapons program.
Enriched uranium can be used as fuel for civilian nuclear reactors but at a high degree of enrichment it can also be used as a key ingredient in making nuclear bombs.
Original Plan Altered
Agencies report that Tehran and Moscow seem to have dropped the initial plan and worked out a more broad-based plan.
Iran had previously insisted that it will never give up its right to enrich uranium domestically. It is not clear how the Russian proposal has been altered to satisfy Iran.
Upon returning to Moscow today after three days of talks in Iran, the head of Russia's Federal Atomic Energy Agency (Rosatom), Kiriyenko, said that there is "little time" left for agreements but added that Iran's nuclear issue can still be solved diplomatically.
"A lot of work still needs to be done and we have agreed that the talks will continue in Moscow in the very near future," he said. "The talks are not simple, they are complicated, but I would like to repeat that I am confident that a diplomatic solution is possible."
Iran's Official News Agency (IRNA) reports that Japan last week expressed support for the Russian proposal and called on Iran to accept it.
Regaining Trust
Japanese Foreign Minister Aso told the country's parliament today that Iran has recently lost the trust of the international community and that he hopes to urge Mottaki "to gain a better understanding of the international situation."
Some two years ago Japan signed a deal with Iran -- over U.S. objections -- to jointly develop the large Iranian Azadegan oil field.
Japan -- which imports about 15 percent of its crude oil from Iran -- is keen to prevent a referral of Iran's nuclear case to the UN Security Council for possible sanctions.
Iran's nuclear case will be discussed during a 6 March International Atomic Energy Agency (IAEA) Board of Governors meeting and it will be decided there whether the issue will be referred to the UN Security Council.
The IAEA has called on Iran to reestablish full suspension of all uranium-enrichment activities including research and development. Russian Foreign minister Sergei Lavrov called on Iran today to return to its voluntary moratorium on the enrichment of uranium.
On 26 February, Iranian Foreign Ministry spokesman Hamid-Reza Assefi said Iran has not yet resumed uranium enrichment.
Resuming Research
He said "the issue is the research activities that Iran has resumed. This is different from uranium enrichment." Assefi added that Iran will continue its research work and will not suspend it "in the face of pressure."
A deputy head of Iran's Supreme National Security Council, Ali Hosseini-Tash, said today that his country sees "no reason" to back down in a dispute over its nuclear program, even if taken before the UN Security Council.
Iran says its nuclear program is solely aimed at peaceful purposes but the United States accuses it of secretly trying to develop nuclear weapons.
Russia's Nuclear Power Chief
Russia's Nuclear Power Chief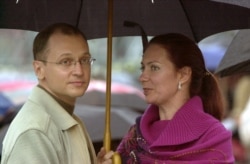 Sergei Kiriyenko and his wife, Maria, at a rock concert in 2004 (TASS)


A RISING STAR: In August 1998, Russia spiraled into financial meltdown. The subsequent ruble devaluation was a severe blow to the country's financial system and millions of people lost their savings. At the helm was Prime Minister SERGEI KIRIYENKO, who, along with his government, was subsequently forced to resign by then President Boris Yeltsin. Since that career low, Kiriyenko's fortunes have changed. Currently in charge of Rosatom, Russia's Federal Atomic Energy Agency, he is thought by many to be a politician on the rise.... (more)
See also:
Moscow Seeks To Reignite Nuclear Power Industry
Putin's Former Colleagues Make Up Today's Energy 'Team'