PRAGUE, March 2, 2006 (RFE/RL) -- The two men, Ali Afrawi and Mehdi Nawasseri, were hanged in public near the location of the October 15 bombings.
Six people were killed and many more were injured during the double bomb attacks.
Hanged In Public
Iran's Student News Agency (ISNA) reports that the families of those who were killed in the blasts and some of the city's residents were present.
Reports say that Afrawi and Nawasseri were in their 20s. AFP reports that they were ethnic Arabs, a large population of which lives in Ahvaz.
Amnesty International also says that executions in Iran continue at "an alarming rate." The organization said that thus far in 2006 it has recorded as many as 28 executions.
ISNA also reports that the "confessions" of Afrawi, Nawasseri, and other members of the team that was involved in the bombings were broadcasted on Khuzestan local television. One of those executed, Afrawi, reportedly said in the videotaped confession that he had been in contact with exiled separatist groups in Canada and Britain and these groups had asked him to create insecurity in Iran.
Others Sent To Prison
Khuzestan Deputy Governor Mohsen Farokhnejad said on March 1 that five more people connected to the bombing were given jail terms ranging between two and more than 20 years.
Farokhnejad said the individuals had "Wahabi" tendencies and that their main goal was to "deepen ethnic tensions and disrupt national unity."
Iranian officials had originally accused Britain of being involved in the bombings, a charge that the U.K. said was baseless.
The executions took place despite a call last week by Amnesty International and Human Rights Watch for Iran's judiciary to stop applying the death penalty.
The human rights group expressed serious concern over the increase in reported executions in Iran following the execution of Hojat Zamani, a member of the armed opposition group the Mujahedin Khalq Organization (MKO).
Zamani, who was condemned to death in 1994 for involvement in a bomb explosion in Tehran in 1998, was executed on February 7. Iran did not confirm his execution until two weeks later.
The case raised concern among human rights groups that more political prisoners could be executed in Iran, including several other MKO members who have been on death row for several years.
More To Come?
Sadegh Naghashkar, a human rights activist in the Netherlands, spoke to Radio Farda following Zamani's execution on February 17.
"The lives of several other political prisoners are in serious danger and they could face execution; with the resumption of the new wave [of executions] they could be executed at any moment," he said.
Human Rights Watch said in a statement on February 27 that the number of executions in Iran has increased sharply since last year's election of President Mahmud Ahmadinejad.
HRW added that according to articles in the Iranian media, between January 20 and February 20 alone, authorities executed 10 prisoners and condemned another 21 to death.
Amnesty International also says that executions in Iran continue at "an alarming rate." The organization said that thus far in 2006 it has recorded as many as 28 executions.
Along with China and the United States, Iran has one of the highest execution rates in the world. Amnesty calls the death penalty the most inhumane punishment of all, one that violates the right to life as proclaimed in the Universal Declaration of Human Rights.
Iran's Drug Problem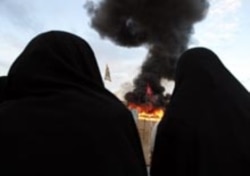 READ
DRUG USE ON THE RISE:
The Iranian approach to drug control is very relevant to the rest of the world, because Iran's neighbor, Afghanistan, is the world's leading producer of opium. Iran leads the international community in global opium seizure rates and it is second to Pakistan in opiate seizures, according to the UN Office on Drugs and Crime. Iran also leads the world in the prevalence of drug abuse (2.8 percent of the population aged 15 or older), according to the UNODC.
(more)
See also:
Iran: Country's Drug Problems Appear To Be Worsening
New Ways Considered For Tackling Growing Drug Use Among Young Iranians


SUBSCRIBE: For weekly news and analysis on Iran by e-mail, subscribe to "RFE/RL Iran Report."