30 Dead In Iraq, Sunni Leader Escapes Assassination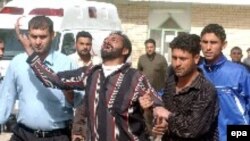 An Iraqi man in Al-Sadr city mourns a relative who was killed in a minibus explosion today (epa) March 2, 2006 -- At least 30 people were killed in attacks across Iraq today, as a senior Sunni leader escaped an assassination attempt in Baghdad.
Gunmen fired on the motorcade of Adnan al-Dulaimi, leader of the Conference of the People of Iraq, the largest party of the Sunni Arab minority. One of his bodyguards was killed. Dulaimi later urged his supporters to show "self-restraint" and not carry out any reprisals.
A car bomb explosion killed at least five people and wounded several in Baghdad's Shi'ite neighborhood of Sadr City.
And a bomb at a marketplace in southern Baghdad killed four people and injured 11.
Some 20 people were also killed in scattered attacks throughout the country, including seven Iraqi soldiers and four policemen in the northern city of Tikrit.
Meanwhile, the U.S. military in Iraq said U.S. forces have detained 61 rebels linked to terror mastermind Abu Mus'ab al-Zarqawi near Fallujah, in western Iraq.
(compiled from agency reports)

SUBSCRIBE For weekly news and analysis on Iraq by e-mail,
subscribe to "RFE/RL Iraq Report."