Belarus: Havel's Advice For Belarus's Dissidents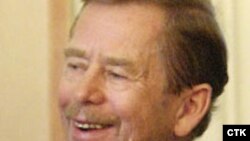 Vaclav Havel, former dissident and former president of Czechoslovakia and the Czech Republic (file photo) (CTK) Czechoslovakia's leading communist-era dissident and the first president of post-communist Czechoslovakia, Vaclav Havel, on March 1 presented a human rights award in Prague to the Belarusian rights activist Alyaksandr Byalyatski, head of the Vyasna human rights center until it was closed down by the Belarusian authorities. Havel's symbolic support for the award -- the Homo Homini prize presented at the annual One World festival of documentary films focused on human rights -- is the latest example of Havel's longstanding backing for Belarus' democratic opposition and came at the end of a week marked by another diplomatic spat between the Belarusian and Czech governments. RFE/RL's Belarus Service asked Havel to explain his stance on Belarus and share his advice to Western leaders and also to Belarus's opposition ahead of presidential elections on March 19.
RFE/RL: How do you explain your consistent support for Belarusian democrats?
Vaclav Havel: I sympathize, but I am not alone. It is an element of the Czech Republic's current official policy to sympathize with anyone who is striving for more liberal, more democratic conditions, with those who want to change an authoritative system because we have our own experience to draw on and because we feel a heightened responsibility to show solidarity with those who are striving after roughly what we ourselves sought after.
RFE/RL: The KGB today arrested several young people in Belarus. On TV it was also announced that an opposition conspiracy against the regime and against Belarus had been uncovered. You have rich experience as a dissident. What would your advice to Belarusian dissidents be? What can be done about the secret police in general? How can one deal with them? And is it possible to do something against it?
Havel: To be yourself and, simply, to retain a sense of detachment and take the high ground, and to take it all with a bit of humor. I recall our dissident days as days of relative happiness. There was a sense of solidarity between us, we stuck together, and at the same time we didn't take ourselves too seriously. We weren't obsessed with anything. It is true that everyone tends to remember the good rather than the bad. Still, a measure of distance, a sense of the bigger picture, and also persistence, that's what is most important.
RFE/RL: Russia, is currently the only country in Europe that openly supports the regime of Belarusian President Alyaksandr Lukashenka. What do you think about that? What can the Western governments, Western countries do to counter that? Or how can the topic be addressed with Russia?
Havel: I think they should say openly what they think and not shut their eyes. And conceal nothing. After all, it should be the case that partners and friends are frank with each other and can say what they think.
A protester in Vitsebsk calls for a boycott of the 19 March vote (RFE/RL)

ALL EYES ON BELARUS: No matter the outcome, the presidential election to be held on 19 March is an important event for the future of Belarus, according to three experts on the country who spoke at an RFE/RL briefing in Washington, D.C., on 14 February.
Listen to the complete panel discussion (about 60 minutes):
Real Audio Windows Media
ROBIN SHEPHERD, adjunct fellow with the New European Democracies Project at the Center for Strategic and International Studies (CSIS), said that civil society has been seriously weakened in Belarus as a result of the current regime's self-isolating and corrupt policies. Shepherd believes incumbent Belarus President Alyaksandr Lukashenka has decided he needs a democratic election to legitimize his regime. Shepherd cautioned that opinion polls be read accurately when evaluating the election results when they become available. For example, he predicted that the true level of support for Lukashenka will probably be from 10 to 12 percentage points less than the actual reported vote count, because of a "fear factor" within the Belarusian electorate -- that some voters will fear that Lukashenka can determine how a person voted. Shepherd said he cannot predict the outcome of the election, but does believe the opposition could win a fair vote in Minsk.
JAN MAKSYMIUK, RFE/RL's Belarus and Ukraine regional analyst, noted several differences between Belarus on the eve of its presidential election and Ukraine just prior to its "Orange Revolution" in December 2004. He said that, in Ukraine, no incumbent was running for president, putting both candidates on a more equal footing. Unlike Ukraine, the opposition is not represented in the Belarus parliament or in local governments, Maksymiuk said. The primary opposition candidate, Alyaksandr Milinkevich, will not receive any positive media coverage due to state control of the Belarusian media, Maksymiuk said, and the relative economic prosperity of Belarus is another contributing factor to Lukashenka's likely re-election.
ALEXANDER LUKASHUK, RFE/RL Belarusian Service director, emphasized the government's control of the media in Belarus, saying that the Belarusian people are being deprived of both information and public discussion about election issues.
Listen to the complete panel discussion (about 60 minutes):
Real Audio Windows Media


Click on the image to view a dedicated page with news, analysis, and background information about the Belarusian presidential ballot.


Click on the image to view RFE/RL's coverage of the election campaign in Belarusian and to listen to RFE/RL's Belarusian Service.