The group says at least two of the journalists needed hospitalization. Some of the journalists were temporarily detained by police.
U.S. State Department spokesman Adam Ereli said on March 3 that Washington condemned the arrest of Kazulin.
These actions "reinforce our fears that a free election process will be compromised."
Washington called on the Belarusian authorities to release the journalists and "to conduct an impartial investigation into the beating of the leader of the opposition and to hold the perpetrators accountable."
Belarusians will vote in a presidential election on March 19.
(AFP)
The Media In Belarus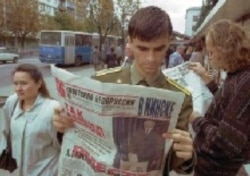 'A CENTRAL-ASIAN LEVEL OF PRESS FREEDOM':
The New York-based Committee to Protect Journalists (CPJ) calls the current conditions for journalists in Belarus "frightening."
CPJ Europe and Central Asia Program Coordinator ALEX LUPIS, who had just returned from a trip to Belarus, told an RFE/RL briefing on 15 February that he found conditions that make it almost impossible for journalists to report independently on the campaign leading to the country's 19 March presidential election.
Lupis said the Belarusian government is "criminalizing" independent journalism, and forcing journalists to leave the country, change professions or join the state-controlled media. There is a "Cold War atmosphere" in Belarus, Lupis said, adding that President Alyaksandr Lukashenka makes up the rules of the game. The Internet, he said, is the "last free outlet" where independent journalists can publish, but Russia and Belarus are updating their media laws in order to restrict Internet usage. Numerous journalists with whom Lupis spoke said that they miss the support they used to receive from nongovernmental organizations such as IREX and Internews, which were once active in Belarus.
Lupis believes that the government in Belarus bans independent journalism because it fundamentally "mistrusts its own people."
Listen to the complete panel discussion (about 60 minutes):
Real Audio Windows Media
See these RFE/RL stories on the media in Belarus:
Independent Newspaper Struggles Against State Interference
EU-Funded Media Broadcasts To Start Before March Elections
Authorities 'Cleanse' Media Ahead Of 2006 Vote




Click on the image to view a dedicated page with news, analysis, and background information about the Belarusian presidential ballot.


Click on the image to view RFE/RL's coverage of the election campaign in Belarusian and to listen to RFE/RL's Belarusian Service.