Three Killed In Baghdad Mosque Attack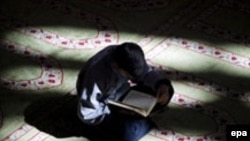 Sunni Muslim reads the Koran in Baghdad's Um Al-Qura mosque (file photo) (epa) March 5, 2006 -- Masked gunmen wearing military uniforms stormed a Sunni mosque in Baghdad overnight, killing three people in a gun battle.
Police say the seven people wounded in the clash appear to be guards at the Al-Nour mosque, in the west of the capital.
The identity of the three dead is not immediately known.
U.S. forces moved in to stop the fighting and remove the dead and wounded.
(AP, dpa, AFP)